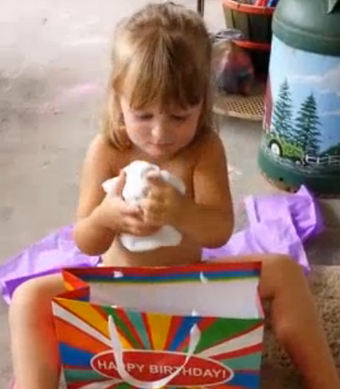 "Oh my god! It's beautiful!"
This little girl's amazingly sweet, impossibly appreciative reaction to receiving a wadded-up pair of men's underwear as a gift is so life-affirmingly adorable that it almost makes you forget that her mom gave her a wadded-up pair of men's underwear as a gift. What?!
Granted, this was a joke. I get that. The mom clearly intended to record her daughter Kylee's sad reaction to a really shitty gift so that she could have a hilarious video for YouTube. Unfortunately, her little girl has the untainted soul of a Taoist master, so that plan kinda fell through. Except it actually didn't, because—as luck would have it—Kylee is so off-the-charts sweet that she ended up with something even better. So, congratulations? I guess?
Also, just when you thought this mom couldn't be any more of a timeless monster for the ages, you realize that she recorded the whole video with portrait orientation instead of landscape. Shut it down! Shut it all down!
(by Dennis DiClaudio)