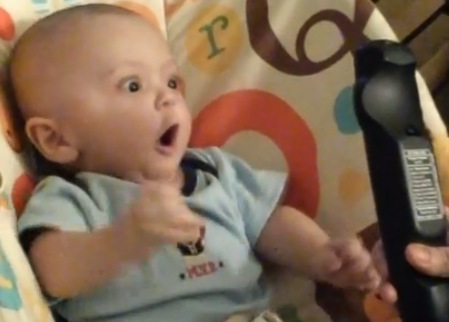 Menu > Settings > Brain > Blown!
On the one hand, I'm kind of jealous of this baby here. Watching this video of this kid experiencing an unimaginable amount of wonder from a simple remote control makes me realize how cynical I've become over the years. A remote control is actually kind of an incredible invention. Even more so when it's in use. How great would it be capable of appreciating it with one-tenth the intensity of this baby?
On the other hand, my heart goes out to this baby. He's gonna be chasing this remote control high for years to come. He'll move on from remote controls to cordless telephones. And then maybe on to smart phones. Each time, he'll be seeking that same endorphin rush of amazement as that first time he laid his eyes on the colorful buttons of his TV remote. Always chasing. Always, always chasing...
Anyway, here's a really cute video of a baby and a remote control. Enjoy!
(by Dennis DiClaudio)