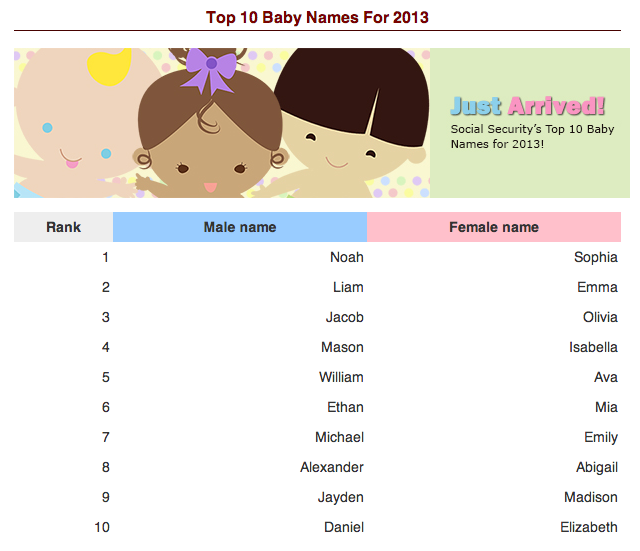 Weird. I really thought this was the year of "Shira." (via SocialSecurity.gov)
Social Security released the official list of the most popular baby names of 2013 today. Coincidentally, none of these babies will actually be able to collect Social Security benefits. Among the many lists of popular baby names, this one is the most accurate, because parents have to register their kids' names with Social Security when they're born.
For boys, we find Noah has finally displaced the ever-popular Jacob after 14 years at the top. Could the Russell Crowe epic be responsible? Probably not. Shockingly, George—as in the baby prince—did not make the list, which almost makes me want to give people some credit for how they make their life choices. Similarly, I was surprised that neither Katniss nor Beyonce cracked the top 10 for girls. Great job, everyone! I'm sure they're in the top 20 though.
Unlike paying into Social Security without knowing if you'll ever get anything back, the Social Security website is a lot of fun. You can enter a name and see the popularity of it over time. Just be prepared for a heart-breaker like this:

Oof.
(by Shira Rachel Danan)