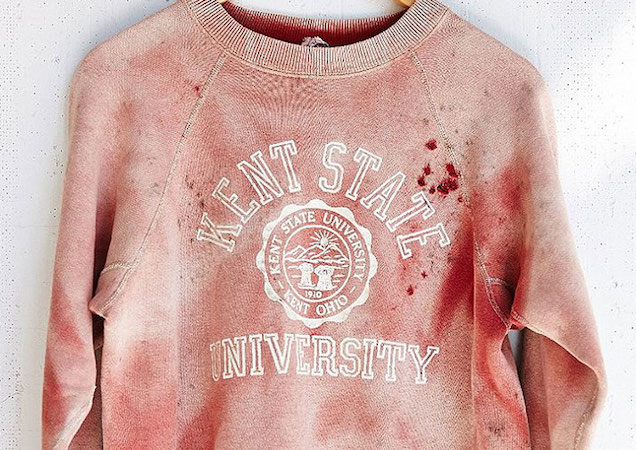 Cute! (Via UrbanOutifitters.com)
Forget what you saw at Fashion Week. If Urban Outfitters has anything to say about this season's latest fashion trends, everybody who's anybody is going to be wearing macabre reminders of college students being murdered by the National Guard. That and skinny jeans. Skinny jeans, always and forever.
This one of a kind "vintage" item, complete with fake blood spatter (and probably even faker distressed cotton), was being sold on UO's website for $130.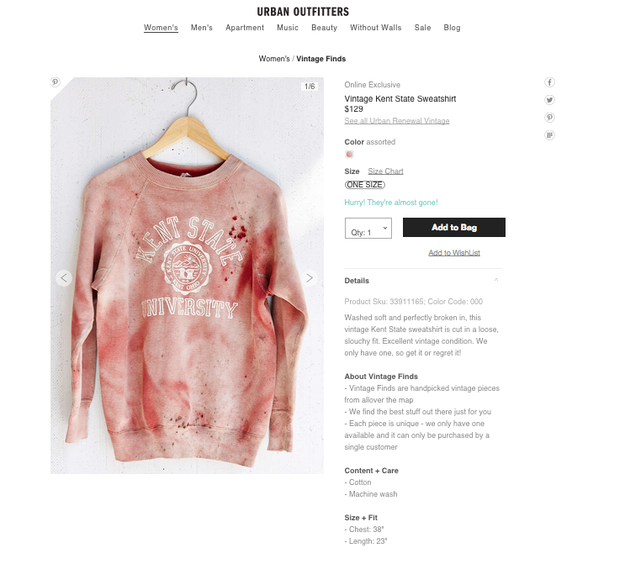 Kent State is the Ohio university where, on May 4, 1970, four students were shot dead by a National Guard unit sent in to quell a protest against the Vietnam war. Someone at Urban Outfitters apparently had the completely random and truly creepy idea to sell a winking reminder of the event, and of course someone in their customer base of teens who prefer their cool to be mass-produced and sold in malls already bought it. Congratulations to whomever managed to enter her mom's credit card number the fastest.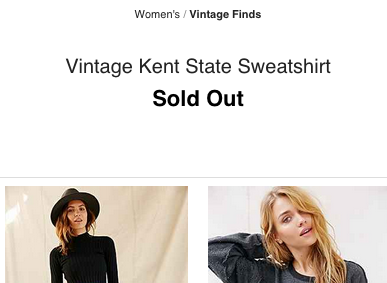 You might also like: A UT Texas "Bell Tower" t-shirt with several pre-cut "bullet holes."
The company Tweeted an apology an hour ago: 
Urban Outfitters sincerely apologizes for any offense our Vintage Kent State Sweatshirt may have caused. It was never our intention to allude to the tragic events that took place at Kent State in 1970 and we are extremely saddened that this item was perceived as such. The one-of-a-kind item was purchased as part of our sun-faded vintage collection. There is no blood on this shirt nor has this item been altered in any way. The red stains are discoloration from the original shade of the shirt and the holes are from natural wear and fray. Again, we deeply regret that this item was perceived negatively and we have removed it immediately from our website to avoid further upset.
I hate when "sun-fade" causes my entire shirt to fade in color except for what looks like fresh drips of blood just around the heart. Double-bummer when it's a shirt for a school that, over 40 years later, remains synonymous with our military opening fire on its own civilians. How unlucky!
It's nice of UO to every once in a while pop up with one of these brain-dead stunts. It lets us olds feel glad to have long ago aged out of being able to shop there.
(by Bob Powers)