My selfie with Justin Bieber #SXSW pic.twitter.com/WOWuzdGcEU

— María Núñez (@marianunez64) March 10, 2014
That about covers it. Maria Nuñez was at the restaurant Banger's during SXSW on Sunday when the Biebs dropped in for a set. She was...startled.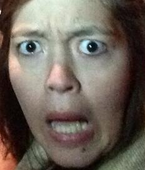 The face of Bieber proximity.
The only thing scarier would have been if she'd been present at his deposition.
(by Bob Powers)