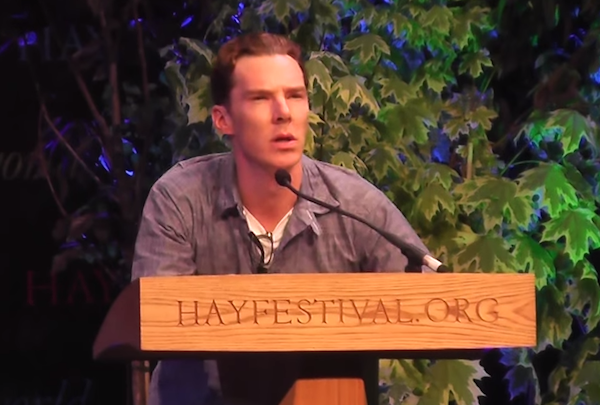 "I got a lust for celebrity impressions."
The Hay Festival of Literature and Fine Arts held in Hay-on-Wye, Wales each year, sounds about as un-punk an event you could find. Attendees probably aren't treated to many celebrity impressions either. But one audience received a heavy dose of both during an event where celebrities read letters written by "persons famous, infamous and unknown"
Benedict Cumberbatch was there to read a heartfelt, inspiring letter that Iggy Pop wrote to a young fan in 1995. And without the aid of being shirtless, high on heroin or covered in peanut butter, Cumbie pulled of a pretty convincing Iggy.
Cumberbatch clearly has an ear for impressions and his Iggy is pretty good. Though it's still not nearly as entertaining as his spot-on Chewbacca that nearly gave Harrison Ford a stroke during an appearance on The Graham Norton Show last year:
Cumberbatch is a talented actor who's constantly working. But it must be some comfort to know that if the acting work ever dries up, he could always have a career in Vegas doing a Legends-type show . Or at the very least an off-broadway play called When Iggy Met Chewy.
(by Jonathan Corbett)