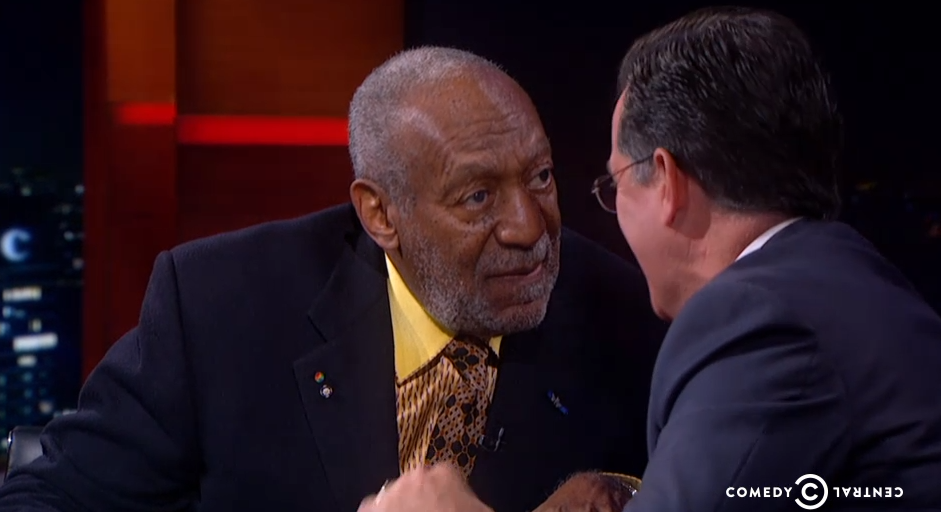 Don't doubt this face for a second.
Bill Cosby raised a bunch of eyebrows last night with his appearance on The Colbert Report. He begins his interview staring off into the distance like he might not know where he is, but to be sure, that stare only comes from the fact that it doesn't matter where he is, because he is there.
What we are looking at is an accomplished man who has no one to answer to, who wants to do things his way, and who wants to explore his balls joke on his own terms. Some are saying that he had the appearance of a crazy grandpa who lacked lucidity, but I saw a very measured legend whose perfect wit and timing could not be rushed by the regularly fast pacing of an interview show. 
Colbert does a great job of infusing his own sense of humor while simultaneously trying to stay out of the way of what, to those with trust issues, appears to be a derailing train. In reality, Cosby is just a lateral thinker who should have never been set on tracks to begin with. Cosby clearly had his own ideas about where he wanted these jokes to go, and like water flowing over rocks, Colbert's comments only create pleasing ripples in Cosby's sideways logic.
And there is oh, so much hand-holding.
Watch Cosby's rendition of The Colbert Report theme song and see if you don't have to agree, he hasn't changed a bit.

(by Myka Fox)