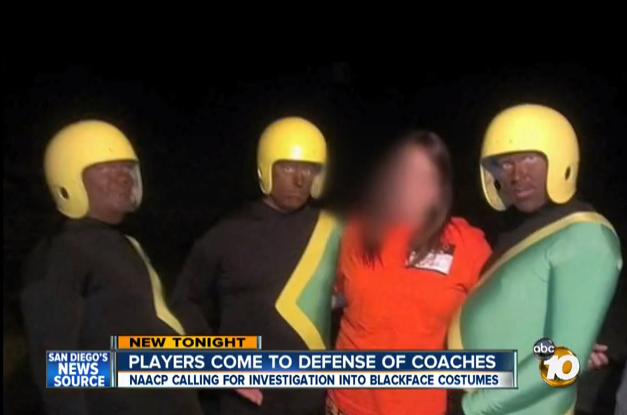 Looks like those Jamaican bobsledders have put on a few pounds. (screengrab via ABC)
Miley Cyrus hasn't dressed in blackface yet, but we can assume it's only a matter of time, since that's this season's hottest controversial costume choice. I hesitate to call it "controversial," since it's actually been decided by society at large for decades. We don't do blackface. And yet some morons manage to forget this one key rule about not being a racist every year and distract us from what really matters at this time of year: vomiting from a combination of beer and candy.
This year, besides Julianne Hough, it's these high school football coaches from Serra High School in San Diego. They went as the Jamaican bobsled team from Cool Runnings, and it would have otherwise been a pretty sweet costume if not for one pointlessly idiotic decision. Yep, they wore blackface. Sigh.
Yes, many of the football players claim not to be offended and yeah, I'm sure these idiots are just idiots, not racist idiots. But who cares? It's not like blackface is a fundamental human right or something we need to make room for in our culture. The Jamaican flags would more than convey what these guys are trying to get across without the body paint, and we would never have had to have this conversation.
(by Shira Rachel Danan)