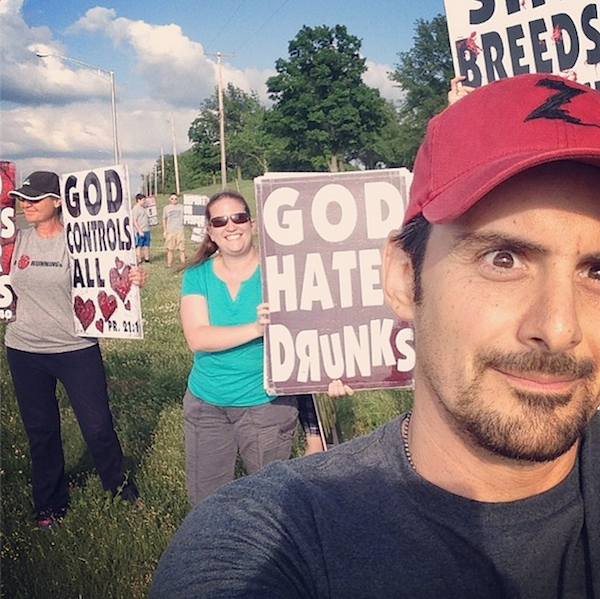 Hate "Я" Us. (via)
Americans don't agree on much anymore.  But if there's one thing with the potential to unite just about all of us, it's Christianity's worst enemy, the Westboro Baptist Church. A-hole God's foot soldiers were in Bonnor, Kansas over the weekend protesting a Brad Paisley concert because, I'm guessing, he must have written a song about tolerance or experiencing joy of any kind. 
Brad took a moment before the show to take a selfie with them and posted it to his Instagram account, tagging it with, "Westboro Baptist Selfie!! Or west-Burro(ass) selfie. Hopefully they can hear the show out here. We'll play loud."
He even shot a quick video of the encounter, the way you would if you happened upon a herd of bison and wanted proof that large, unintelligent mammals still roam free in some parts of the country.
It makes you wonder how far down Brad Paisley is on their list of things to protest? He must fall somewhere between "ice cream" and "yoga pants." Were they just low on gas and he happened to be across the street? And how are they possibly able to still recruit when "pop country" is on the same list as "homos" and "Al Qaeda?" 
Paisley's picture is a reminder that there's only one thing the Westboro bunch do enjoy, and that's attention of any kind.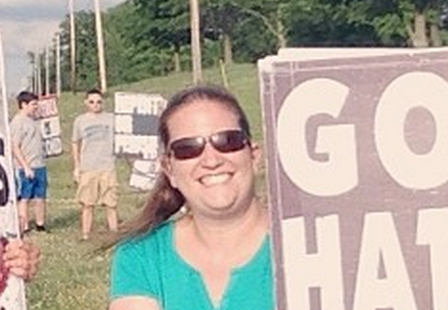 God loves selfies.
(by Jonathan Corbett)