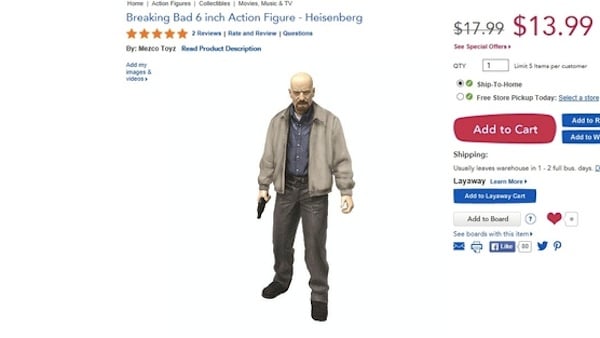 Buy your own and make him knock today! (via Change.org)
After a Florida mom started a petition to get "Breaking Bad" action figures pulled from Toys "R" Us, the store announced today that the toys are going on "indefinite sabbatical."
The Walter White and Jesse Pinkman action figures come with detachable bags of cash and meth, which apparently Susan Schrijver doesn't think aligns with family values. Any true fan of the show knows Heisenberg was all about family, but fine. The dolls were supposed to be shelved in a section of the store that's marked for "ages 15 and up," but Schrijver thinks their presence in a store that mostly sells toys for younger kids is detrimental.