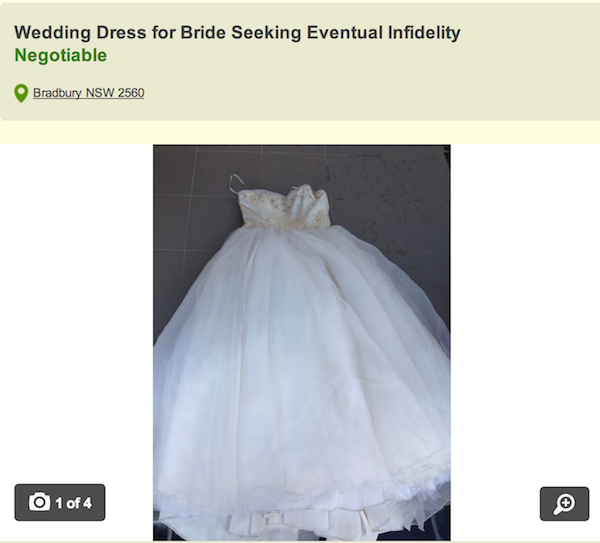 Buyer be extremely beware. (via)
After his wife left him for his best friend, a 32-year-old Australian man appears to have rediscovered his sense of humor and is moving on in the best way possible - by selling his ex-wife's wedding dress on Gumtree. 
As brutal as the breakup must have been, at least he can take some comfort knowing that the ad for the "harlot-sized" dress has gone viral with over 170,000 hits:
Due to be married soon? Not planning on staying faithful? Want to sleep with one of your soon-to-be husband's closest friends? Then THIS is the wedding dress for you! 
The wording may not make for good ad copy, at least in terms of moving product, but it does make for an entertaining read, in terms of getting revenge after having your heart ripped apart.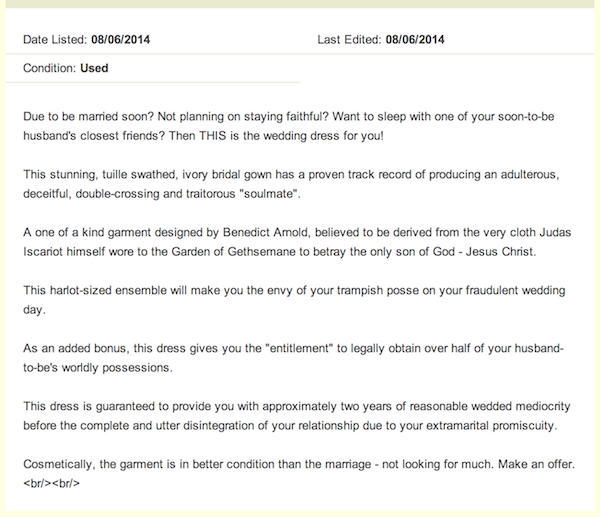 The quotations on "soulmate" was a good call. (via)
The ad was written by the man's (better) friend, Dan Campbell, who owns the garage where the dress was being stored. The unnamed man may be ready to move on with his life, but judging by the description in the ad, it seems like Dan is holding on to some bitterness.
The good news for Dan, though, is that all the attention from the ad will probably help move another item from his garage, listed under "more items from this seller," a 2008 Suzuki motorcycle.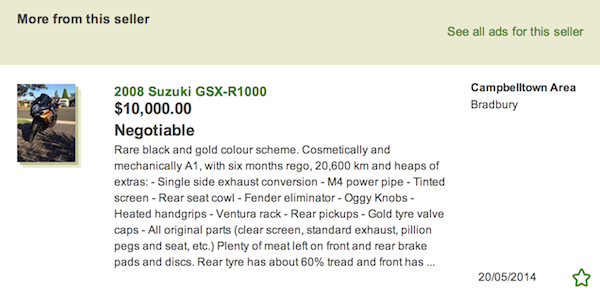 Ask him to throw in the wedding dress. (via)
(by Jonathan Corbett)