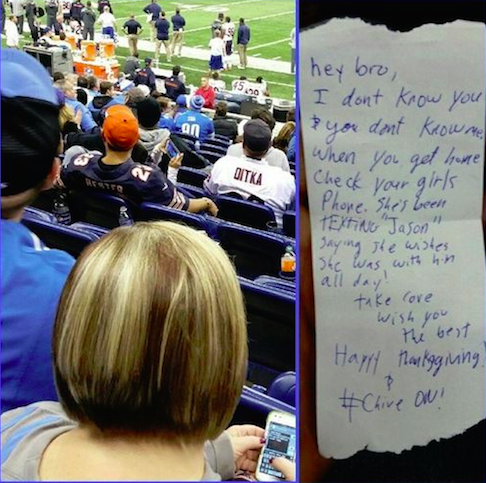 One Lye is enough to question all truths. (Via)
If your 8-months-pregnant wife was cheating on you, you would want to know, right? What if the only person who could tell you was a complete stranger, and that stranger shared your story on Facebook leading to the tale of her infidelity going viral?
That's what happened to one man who sat with his pregnant wife in front of a terminally honest stranger, ironically named "Lye," who just couldn't let that pregnant woman do her husband dirty. He explains his actions on Facebook:
"I was at the Detroit Lions game today when I noticed this woman who looked 8 months pregnant in a seat in front of me texting a man messages like "I wish I was with you all day" and "I will see you as soon as I'm done with him." She kept hiding her phone every time her partner put his arm around her or reached in to talk to her. So being the man that I am I couldn't help it…I had to write him a little note and on his way out after the game was done, I simply waited for him to exit and stopped in front of his woman and handed him a piece of paper and said "I don't know you and you don't know me, read this when you get home, trust me."

He looked at me confused and said "okay." And that was it, idk what happened after and I was a little tipsy but I don't care, it felt good. I hate fake people."
A man named Lye who hates fake people. It is a hero's tale. The note (pictured above) that Lye passed to his brother in harms reads:
"Hey bro, I don't know you and you don't know me. When you get home check your girls phone. She's been texting "Jason" saying she wishes she had been with him all day! Take care wish you the best Happy Thanksgiving and #Chive On!"
Happy Thanksgiving indeed. I guess now that man can be thankful for finally knowing the truth? In case you're wondering, "chive on" is a colloquialism stemming from the website thechive.com, and means "stay the course, no matter what."
It's hard to say what course Lye's "bro" is supposed to stay. Did he mean that he should stay the course by keeping his chin up despite needing to divorce the wife that is about to drop his baby, or does saying the course mean he should continue in his marriage, no matter what?
Whatever course the cuckolded man stays, Lye's job is done.
Or, so he thought. Since this story has gone viral, Lye has been under severe criticism for butting in. Some think he should have minded his own business, but as reported by Mad World News, Lye has since considered his actions, and said, "I don't regret a d*mn thing, well except the fact that I didn't leave anything for him to be able to contact me on."
Yeah, too bad they can't keep in touch. So, "bro" with the pregnant wife, if you're out there and have some words for Lye, feel free to contact him via the comments section of this post. We'll make sure he gets them.
(by Myka Fox)