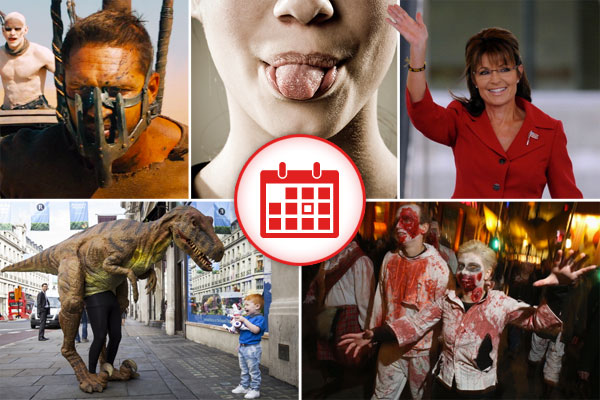 1. Day Of Walking Dead Tragically Ends In Minor Injury
A day full of people walking around town dressed as reanimated cadavers turned unexpectedly dark over the weekend when a bunch of Californians participating in San Diego's annual Zombie Walk thronged around a family in a car, prompting the frightened driver to hit the gas in an attempt to escape, striking several of the corpses around him. One zombie woman was left with a broken arm and several other zombie participants received minor injuries.  
When I die, bury me wearing a red leather jacket so that when I'm a zombie I can avoid unemployment by being a Michael Jackson impersonator.

— Kyle Lippert (@Kyle_Lippert) July 25, 2014

2. Sarah Palin Launches An Online Channel Dedicated To Sarah Palin And Sarah Palin-Related Topics
For $9.95 a month, or $99.95 a year, you can have full access to the mind of Sarah Palin. Or at least to the mind of whoever's in charge of programing for the Sarah Palin Channel.com, an online television channel that promises to "go beyond the soundbites and cut through the media's politically correct filter." Basically, it'll just be a audio-visual version of the bumper stickers found in the parking lot of a Tea Party rally.
Reminder: it costs absolutely nothing to NOT watch Sarah Palin.

— Benari Poulten (@BenariLee) July 28, 2014

3. Scientists: Your Tongue Is Capable Of So Much More Than Just Being Weird And Gross  
According to new research, the human tongue is capable of sensing many more than the five tastes—sweet, salty, sour, bitter, umami—that we previously knew of. It's possible that there are as many as 20 other flavors it's capable of detecting. Among them, I'm assuming, are "Cool Ranch®," "meat-ish-ness" and "subway pole."
Goodnight, world. Sweet dreams. Also salty dreams and umami dreams.

— Neil Gaiman (@neilhimself) October 21, 2011

4. Study: We Came This Close To Having Dinosaur Dishwashers Like On 'The Flintstones'
If some experts from Edinburgh University in Scottland are right, it means that dinosaurs could very easily have survived the asteroid strike that wiped them out, if only it had come a few million years earlier or later. There was apparently a lack of biodiversity at the time of the moment of impact that hindered the species' ability to properly adapt.  
If we all just admit dinosaurs used to coexist with us it would make getting startled by airplane shadows less embarrassing for me.

— Chris McKenna (@cpmckenna) May 28, 2014

5. New 'Mad Max' Seeks To Inure World To Concept Of Roving Bands Of Maniac Freaks Preying Upon The Remnants Of Society
The trailer for George Miller's reboot of his classic post-apocalyptic Mad Max actions series debuted at Comic-Con over the weekend. Mad Max: Fury Road should be hitting theaters some time next year, assuming the actual events of the film don't occur in real life first.
Mad Max but it's just me riding an armored Segway through a mall.

— Adam Wilson (@theleanover) July 8, 2014

(by Dennis DiClaudio)