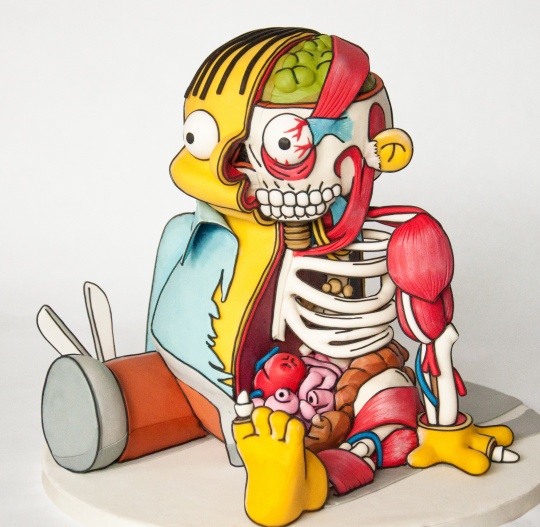 Whether or not you choo-choo-choose to believe it, this is a cake, not a drawing of one. 
There are many mornings that I wake up thinking, "I deserve a big helping of cake today," and "I deserve a big helping of The Simpsons today." Usually, I have to settle for going to work and watching cat videos that don't involve Itchy or improbable gore. Well, Kylie of Freshly Squeezed, a bakery/graphic design/event planning shop in Courtenay, Canada, is a much luckier person than I am. Not only did she and her coworker get both cake and Simpsons, they got both in one photorealistic (if you can use that term with a cartoon) package, complete with improbable gore. But since someone clearly gave Ralph Wiggum scissors when everyone knows he can't even be trusted with the plastic kind, I guess it's not completely out of the question. The cake was created as the shop's entry in a contest for Threadcakes, which you can go see now.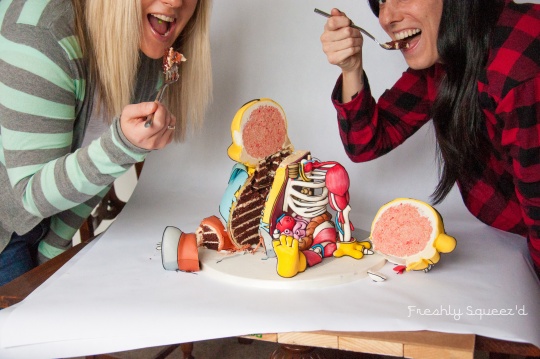 See? Cake.
Before you get too jealous of Kylie's caking abilities, keep in mind that this did take five days to make, apparently. If you still, after all this, don't think that's a cake, so scroll through redditor mistermonkus' album to see how it was made:
Be careful with the chocolate parts, though. Chocolate never comes out.
(by Johnny McNulty)