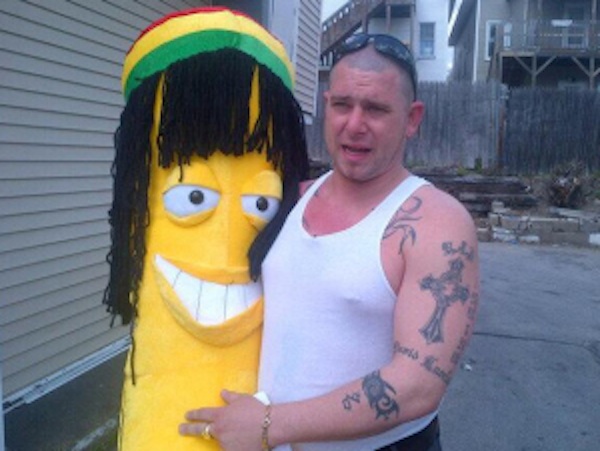 That banana's gotta be worth $4,000 easy. (Image via CBS Local Boston)
A New Hampshire man lost $2,600—his life savings—on a carnival game called Tubs of Fun. Thirty-year-old Henry Gribbohm was hoping to win an XBox Kinect at the game, which you play by throwing plastic balls into a plastic tub. Gribbohm was awesome at the game during his practice throws but then, he says, something changed, and the balls kept popping out. "It's not possible that it wasn't rigged," Gribbohm insists.
Yet despite realizing this (and apparently forgetting that a brand new XBox 360 costs less than $200), Gribbohm kept throwing money down the toilet, blowing through the $300 he had on him, then going to get his remaining $2300 and giving that money to the Tubs of Fun man, too. Gribbohm just wanted to have a nice time with his family, but instead his day was totally ruined by a sneaky game and his own insane lack of self-control. Eventually, Gribbohm confronted the Tubs of Fun guy and went home with $600 and a novelty stuffed banana with dreadlocks. While we're sorry the dude lost all his money, we think he can make it all back by selling a calendar of images of himself and his banana. We'd buy it.