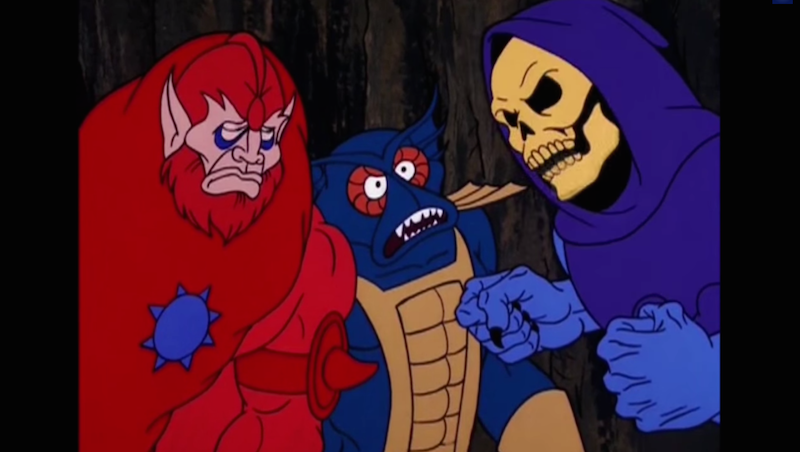 Beast-Man, you gotta stand up for yourself. Skeletor needs you more than you need him.
Man, what a cranky pants, that Skeletor! He has a sharp-tongued (does he even have a tongue?) insult for everyone around him, who happen to be the only characters who support him, of course. One expects a villain to insult a hero, because after all, the hero is probably going to beat the snot out of him later, but it's always disappointing to see a villain verbally abusing their henchmen as a way of dealing with his personal problems. Clearly, Skeletor has a lot of issues with needing to feel powerful and in control (specifically, his desire to feel in control over the Power of Greyskull), or else he wouldn't be such a dick to Beast Man, Whiplash and the gang. On the other hand, he does say that books are the real treasure of the universe. So, that's cool.
This clip is from Dreamworks TV, which, as it sounds, is part of Dreamworks. Does this mean there's a new He-Man movie coming? Actually, yes, and apparently the guy who directed Kick-Ass 2 is going to be helming it. This is actually a little old for most Millennials to remember, but it's the perfect age for Millennials to pretend to remember. I was more of a Voltron kid, but I've seen the terrible live-action Masters of the Universe with Dolph Lundgren and Frank Langella, and damn if that's not enough to me to pretend to have a ticket for the nostalgia train. Yay, hipsters! 
(by Johnny McNulty)