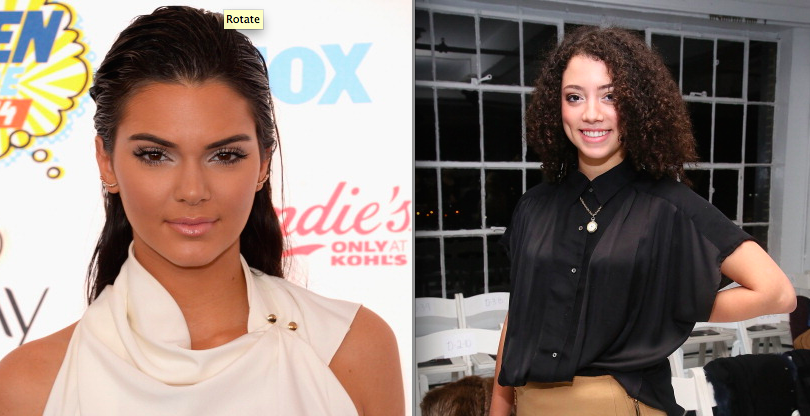 (Via Getty Images)
It's been two whole days since Cash Face Gate, when Kendall Jenner allegedly threw cash in waitress/actress Blaine Morris's face at Mercer kitchen. Finally -- FINALLY -- we are hearing Kendall's side of the story, and it comes in the form of a lawsuit threat.
On a Twitter account that has since been made private, Blaine Morris, star of the cancelled MTV show Skins, claimed Jenner bailed on a bill and then threw money in Morris's face.


The internet never forgets.
The story was corroborated by an anonymous patron at the restaurant who said that Jenner and Stephen Baldwin's daughter, Hailey Baldwin, were pissed because they were too underaged to drink, and then laughed in Morris's face when going after the pair when they forgot to pay their bill.
Baldwin's rep immediately jumped into action saying,  "They thought everything was paid for. Kendall was polite and asked 'Does this cover it?' They didn't run." 
Jenner's camp was nowhere to be seen until today.
Finally, Kendall Jenner's lawyer, Marty Singer, responded to the throwing-cash-in-face-accusations by throwing his own paper in the waitress's face: a lawsuit.  
According to a letter obtained by TMZ, lawyer Marty Singer does admit that 18-year-old Kendall and pal Hailey did in fact eat at the Mercer Kitchen and they did accidentally walk out on the bill, but instead of throwing money in the waitress's face and laughing, Kendall was "extremely apologetic" and paid the $33 bill plus a $7 tip. 
Then he got personal, writing, "Although you are working as a waitress at Mercer Kitchen, I understand you are also a struggling actress," adding, "You no doubt concocted a fictionalized account of your encounter with my client in order to create publicity for yourself."
Burn. 
So now we are left in a tailspin without knowing what to believe. Is Jenner a total bitch or a celebusweetheart? Is Morris just trying to ride Kendall's Koattails? Will any of the other restaurant patrons speak out? Will MTV order a new season of Skins? Did you know that a latte at the Mercer Kitchen costs an outrageous $7???
Unacceptable.
(by Myka Fox)