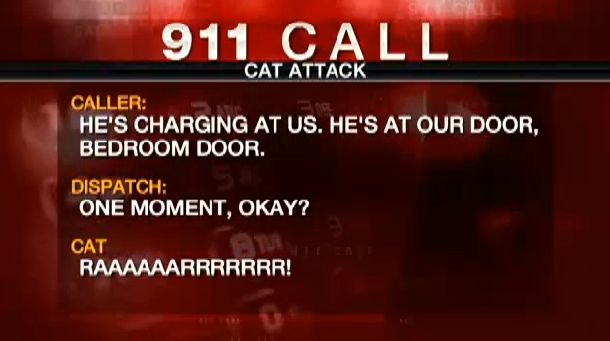 The best transcriber can nail the number of A's and R's in a hostile cat's growl. (Via WBTV)
A Portland family reported a domestic disturbance when their 22-pound Himalayan housecat, Lux, turned aggressive, forcing the mother, father, their 7-month-old baby, and their family dog to cower in the bathroom and call 911 for rescue.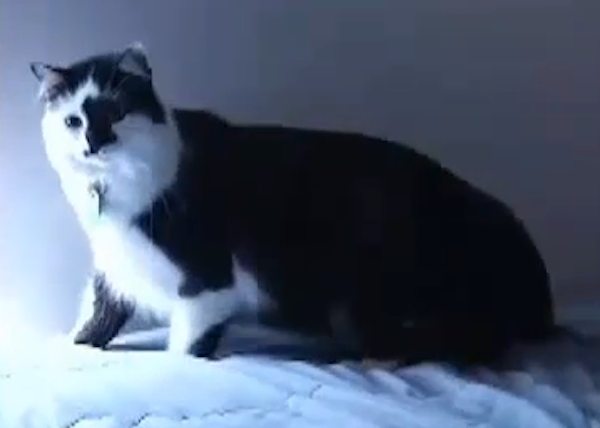 The Assailant. (Via WBTV)
According to WBTV, the incident began when Lux reportedly clawed at the baby, leaving two scratch-marks on his forehead (the baby did not require medical attention). The baby's father, Lee Palmer, claims he "kicked the cat in the rear" in retaliation, to which Lux responded, "Oh, it's on."
Palmer, his girlfriend Teresa Barker, their son Jesse, and their family dog (name withheld due to shame), retreated to the bathroom when Lux began lunging at them in what would clearly have been Phase One of the feline uprising had human police officers not stormed the house to seize the insurrectionist pet.
The WBTV segment below includes clips of the 911 call, in which the humans can be heard pleading for help as 22 pounds of fur, fleas, and fury raged on the other side of the door.
When police arrived, the cat eluded capture by climbing atop the fridge. The family was soon freed from their captivity. Lux continues to live with the family, though he's probably pretty pissed about it.
Based on his behavior, we're pretty sure we've seen Lux in another video.
(by Bob Powers)