Good news! You're not this guy: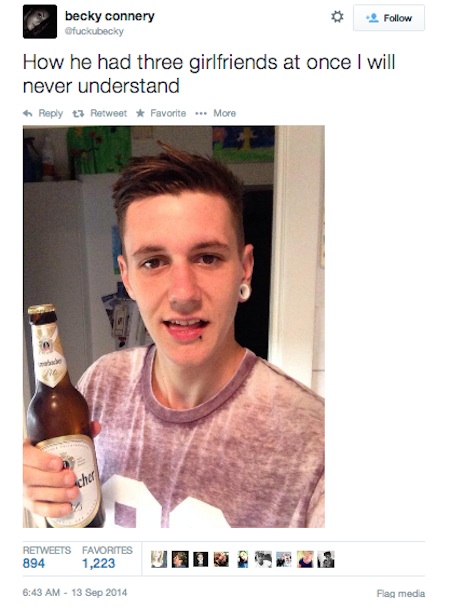 This guy was cheating on three girls at once, and when they found out about it, they decided revenge was a dish best served on Twitter. Becky Connery, 17, Lizzie Leeland Cunningham, 19, and a third girl (who wishes to remain anonymous) met their scumbag boyfriend at the airport when he arrived back from a trip to confront him together.
just been at the airport to meet my cheating boyfriend with the two other girls he was seeing pic.twitter.com/gmsHchXe3W

— becky connery (@fuckubecky) September 13, 2014
According to the Daily Mail, the three girls started yelling "Liar! Liar!" at him as soon as he came through customs. They said they needed to talk, and he allegedly replied, "Can't I talk to you later?" Suffice it to say, the dude was freaked out. 
and he ran to his nana, so if any other girl is seeing him, better get yourself checked as he's slept with everyone:)

— becky connery (@fuckubecky) September 13, 2014
All too often, people who get cheated on like to blame the other woman (or other man, as the case may be). So, it's nice to see these women bond over their mutual hatred of the guy who dicked them around. Here's hoping they can find room in their hearts for all of this dude's victims. 
Oh god there's another girl

— becky connery (@fuckubecky) September 13, 2014
(by Shira Rachel Danan)