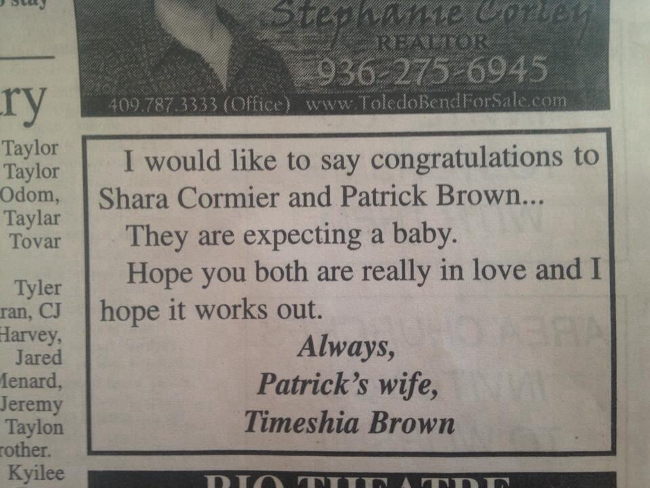 Fifty bucks well spent. (via)
This is how revenge is done, people! Anybody can send an angry email, or write a snarky comment on someone's Facebook page, but those methods are lazy and can be deleted with a keystroke. When Timeshia Brown wanted to send a message to her cheating husband and his pregnant girlfriend, she went old-school hard copy on them by taking out an ad "congratulating" them in a Texas newspaper she knew they would see. Or at least some of their friends or family would see, guaranteeing a phone call starting with something like, "Have you read the Herald this morning?"
The ad was then posted to reddit and has since gone viral. Like most revenge notes and letters these days, we can't say for sure whether Timeshia's ad is genuine or not. But we know this much: putting an ad in a newspaper takes some effort and a few bucks so, real or fake, whoever put this together should be commended on a job well done.
All things considered, I'd say it's a big win for Timeshia Brown. Unless the whole thing is the work of a marketing genius-realtor in Texas whose ad appears just above Timeshia's and is now worldwide. In which case, congratulations, Stephanie Corley. Well played.
Also, my condolences to Jay Leno, who would've had an absolute field day with this.
(by Jonathan Corbett)