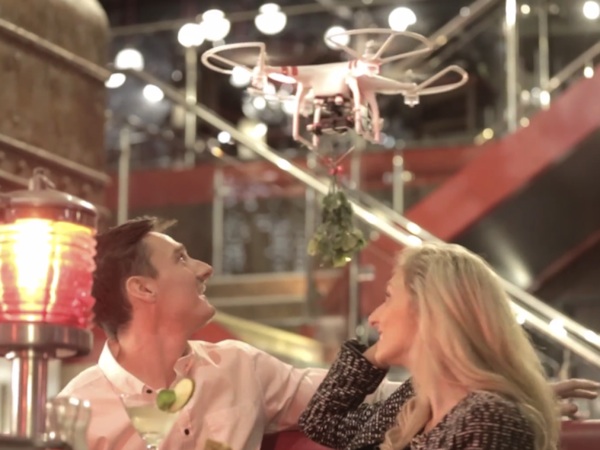 "In here, it's always possible you'll leave with lacerations." (via TGI Fridays)
TGI Friday's Mobile Mistletoe drones debuted Thursday at the restaurant's only Brooklyn location, and there was blood everywhere.
The two remote-controlled drones fly around the restaurant holding sprigs of mistletoe and encouraging patrons to smooch. A photographer for the Brooklyn Daily was on hand to capture the big moment and got cut on the nose and chin when a drone flew into her face.
The @TGIFridays mistletoe #drones caused one injury in Sheepshead Bay: http://t.co/hf3crapQZZ pic.twitter.com/w5lEtHaj97

— Vanessa Ogle (@oglevanessa) December 8, 2014
The incident seems to have occurred when the drone controller landed a drone on the reporter's hand; she flinched, and it flew in the photographer's face. So far, the restaurant hasn't taken any responsibility for the incident.
We've seen drones do some pretty incredible things—both good and bad. But flying them indoors seems like it's obviously a terribly unsafe idea.
Aside from that, roving mistletoe just doesn't feel very sporting. The whole point of mistletoe is that you're supposed to lure the object of your desire under a doorway on false pretenses—"Gerry, come tell me about this mezuzah"—so that you can then pretend to be surprised you have to kiss. You know who you're going to end up smooching in a TGI Friday's? Your coworkers, your grandparents, and your middle-school-aged children—all terrible kissers!
(by Shira Rachel Danan)