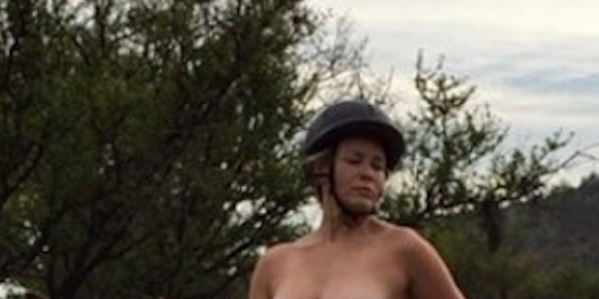 The Cold War just got a little nippier. (Via Instagram)
Last night, Chelsea Handler decided to expose the hypocrisy of what constitutes acceptable human nudity by posting a topless picture of herself on a horse à la Putin. She placed the shot in a side-by-side comparison with the Russian's now infamous original, and accompanied it with the caption, "Anything a man can do, a woman has the right to do better #kremlin."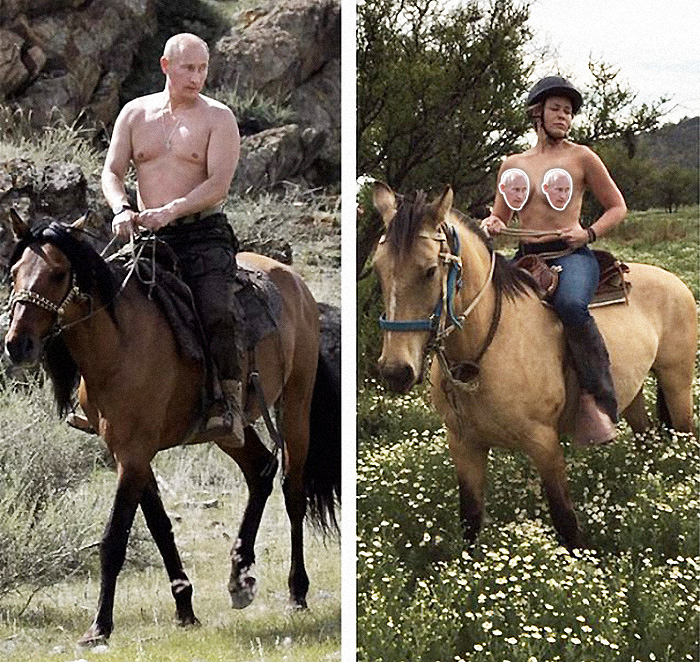 Putin' on the tits. (Via Instagram)
Her pic was posted uncensored, but we had to cover her up due to this being a family-friendly domain where you can get your web fails nudity-free (part of the problem?).
The Instagram overlords took the post down within half an hour. She tried again and reposted the image, this time with the caption, "Taking this down is sexist. I have every right to prove I have a better body than Putin." 
After all, is America land of the free nipples, or isn't it? Plus, she has a way better tan.
The photo-sharing conglomerate removed her post again, and sent her this message, which Handler posted to her account with the caption, "If a man posts a photo of his nipples, it's ok, but not a woman? Are we in 1825?."
I'm trying to recall what happened in 1825, is that when boobs were invented?
How could they accuse her of not caring about "keeping Instagram safe?" She's wearing a helmet!
Handler let loose her dangerous nipples a third time with a new caption, "If instagram takes this down again, you're saying Vladimir Putin Has more 1st amendment rights than me. Talk to your bosses." 
The picture Commies took the photo down again. 
Beyond the ridiculousness of Putin's tits being allowed to roam free across the pages of every major publication while Handler has to hide hers, even her own Instagram feed features unadulterated male nudity. This naked dude parasailing has been up on her Instagram feed for a week.
TL;DR: Man's nipples and ass cheeks good, woman's nipples bad.
Mr. Instagram, tear down this firewall!
(by Myka Fox)