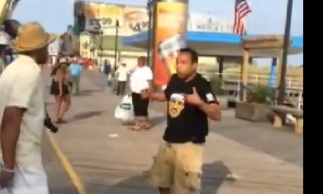 Just like Jim Jones he gets knocked out with one punch.
Standing in the right corner, in the black graphic tee, weighing in at two hundred and three gin and tonics, pushing a nice man's cart for no apparent reason, we have Dumb Drunk Asshole!!!!
And on the left, dressed cooly in linen and a rattan hat, trying to make an honest living as a vendor, we have Decent Dude Just Trying To Mind His Own Business!!!!!
Which one of these Atlantic City contenders will walk away with the cart? It's anybody's guess!