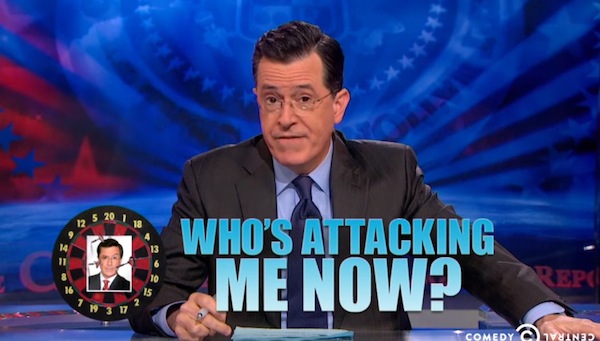 Oh, just the usual people. (screengrab via ComedyCentral)
Last Thursday night, the twitter feed for The Colbert Report made the mistake of posting a joke from the show without any context. Here's what the tweet said: "I am willing to show #Asian community I care by introducing the Ching-Chong Ding-Dong Foundation for Sensitivity to Orientals or Whatever." It was meant to be a satirical play on the announcement of Daniel Snyder's Washington Redskins Original Americans Foundation (which Colbert notes nobody on Twitter seems to give a shit about).
But without any context, the quote from the show seemed offensive (especially if you were somehow completely unfamiliar with the character of Stephen Colbert, the show, and the concept of satire). And indeed, many people found it offensive even in context. Suey Park, a 23-year-old activist, started the #CancelColbert hashtag, hoping to raise awareness of the portrayal of Asians in the media. Other people thought she was being dumb. From there, things spiraled out of control a bit, as they are wont to do on the Internet.