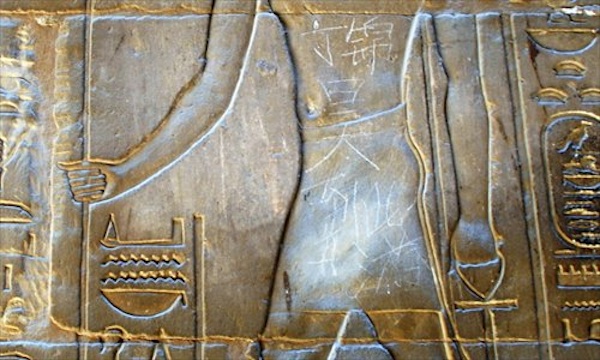 Hey, it's all Ancient Egyptian to us!
A 15-year-old kid from Nanjing who graffitied a 3,500-year-old relic on the banks of the Nile in Egypt was hunted down by an angry online mob after a photo of his handiwork was posted on social networking site Weibo. In Chinese, the message means "Ding Jinhao has visited this place," according to the Weibo user who originally shared the photo, or basically, "Ding Jinhao wuz here." 
While we understand people's outrage, we also understand Ding's deep existential distress that someone viewing the sandstone monument in the future would otherwise be oblivious to the fact that Ding had ever been there at all. Also, we're sad we won't be around in another 3,000 years, when a teen robot will be punished for etching "WR532 + FF491 = <3 4evah" on top of Ding Jinhao's treasured example of early third millenium graffiti.