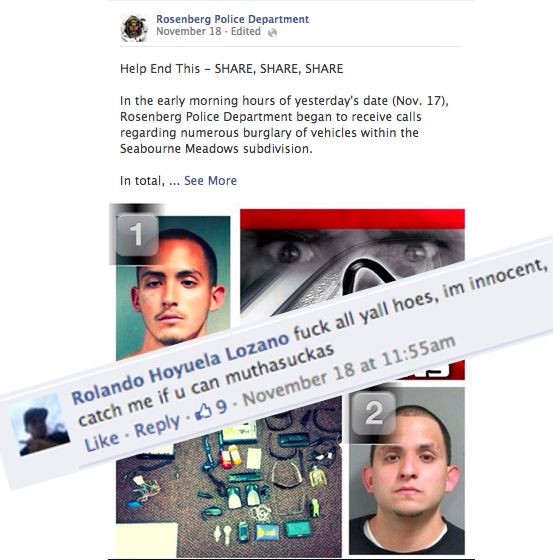 "Challenge accepted!" -The Muthasuckas
Two brothers in Rosenberg, TX—one of whom might be social media-challenged—were suspected of breaking into 17 cars over the weekend. Rosenberg police took to Facebook with photographs of Damian and Rolando Lozano to attempt to enlist the public in helping catch the suspects. Damian was already in custody at the time, but Rolando was still at large. He might have stayed that way too, but when he spotted his pic on Facebook, he couldn't help but throw down a comment. 


A simple "Untag me!" might have gone over a little better.
As often happens in these situations, it wasn't long before the police were able to track down Lozano and post their own triumpant reply. I mean, it really wasn't long at all.

And thank you, especially, to Mark Zuckerberg, for training America's young people to never pass up an opportunity to ruin their lives with a Facebook post.
(by Bob Powers)