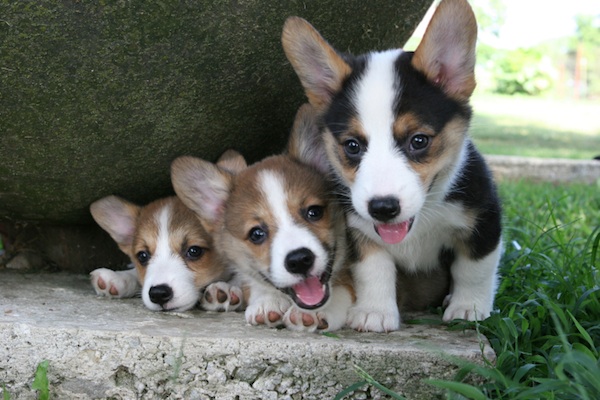 The most romantic dog breed.
(file photo of the most corgis in one photo I could find, which isn't even close to six)

Every bride wants her wedding to be the most magical day ever—totally unique and one-of-a-kind. Some brides wear eye-catching dresses. Other brides book a resort for a destination wedding in the Bahamas. And still other brides complete their ceremony with a buttload of corgis.
This Boston bride falls into the last category. She posted an ad on Craigslist titled "looking for six corgi rental for wedding." In it, she describes her need to "rent six corgis for roughly two and a half hours" so that her bridesmaids can hold corgis during the ceremony instead of bouquets.
Here's the ad: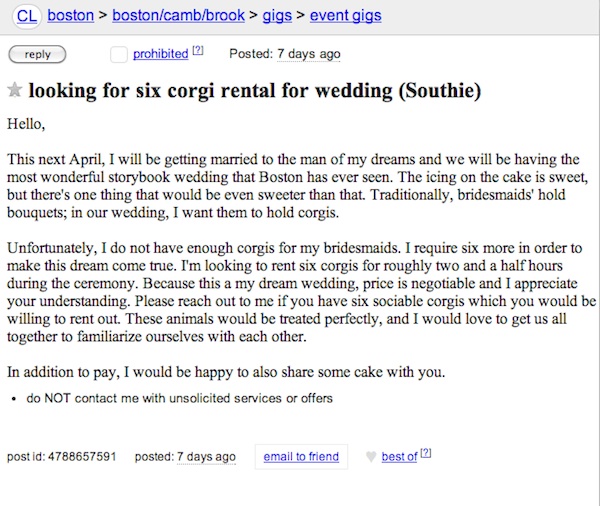 Will the bride's bouquet be a Great Dane? Also, are there people out there renting out corgis by the half dozen? I would like to know more about this and whether the prices are reasonable.
Though the bride promises the corgis "would be treated perfectly," we all know what happens to the bridesmaids' bouquets after the ceremony. They're tossed aside on the nearest table or chair so the bridesmaids can double fist champagne and try to forget how much they've been abused by the psycho former friend who made them carry around corgis all afternoon.
(by Shira Rachel Danan)