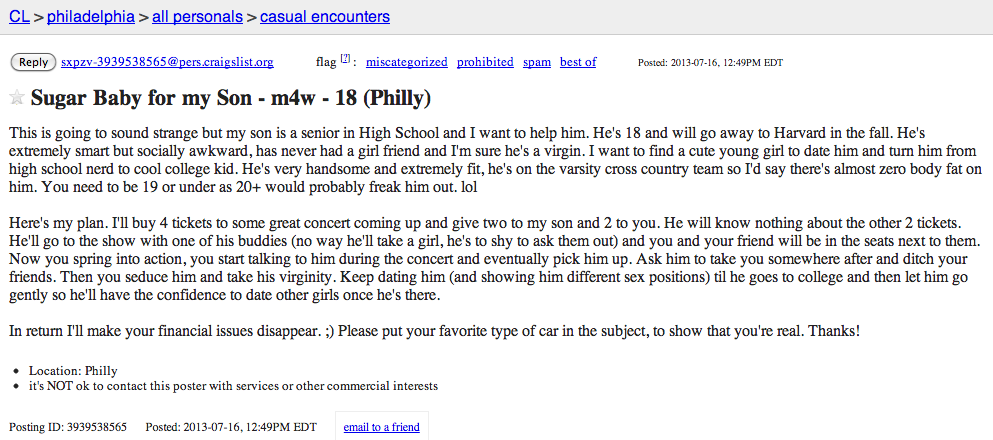 Failure to teach my son at least ten sexual positions will result in non-payment.
Every once in a while, you hear an inspiring story about a parent buying their paralyzed son a prostitute so he can experience sex, or at least a more-understandable lady-rental for a virgin over 35. This lady, however, is setting a new standard for "helicopter mom." It's not enough that she probably scheduled every second of this kid's existence so that he could attend Harvard; after making him into such a Harvard-ready nerd, she now thinks his chances there will be harmed by virginity. So, like the Adderal that he probably doesn't really need or the SAT tutors for whom she probably also bought cars, she's taking care of it. 
Which begs the question: does she really think no one shows up to college as a virgin? What horrible teen movie is defining this woman's worldview? Furthermore, does she really think that no one shows up to HARVARD as a virgin? Even for someone as rich as this kid obviously is, that takes a lot of studying. It also implies that your son may not be an idiot, ma'am. He may very well be smart enough to figure out that the lady trying to sleep with him out of nowhere is kind of acting like a prostitute. He may also be a teenager, and therefore on the Internet, and quite possibly reading this right now. He's going to be way more pissed off if he finds out than if you had just brought a nice working girl home wrapped in a bow.
Finally, please, for the planet's sake, don't ever talk about how much body fat your son has, or how you're sure he's a virgin. Don't ever do that again. Please don't ever describe in a blow-by-blow account how you want her to "spring into action" on your son. Just... just stop doing everything you're currently doing, have a glass of wine, and look in the mirror for 36 hours, or until you have an epiphany about how awful you are. Whichever comes first.
(by Johnny McNulty)