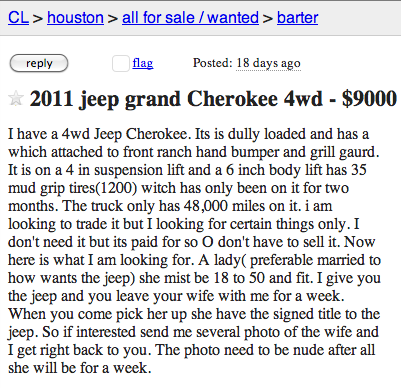 Literally the only correct sentence here is "I have a 4wd Jeep Cherokee."
Disgusting men of the world, take heed: when you propose a week of carnal servitude in exchange for a 2011 Jeep Grand Cherokee, address your ads to the women, not the husband. Good God, man. This is the 21st Century. We let women make their own decisions about to whom to trade themselves away and for what car.
Right behind bartering women in offensiveness is the grammar of this ad. This man is either a cartoon of a horny immigrant or he's the poet of our generation, bemoaning cultural conformity and our "dully loaded" SUVs, and how it's preferable that ladies (and perhaps she-mists) "be married to how wants the jeep."