— BostonTweet (@BostonTweet) February 5, 2014
This creepy dude is coming for you.
Luckily for you, it's a statue. And in addition to not being able to move, he's presently stuck in some pretty deep snow. The statue, currently inhabiting the grounds of Wellesley College, is part of an installation by artist Tony Matelli at the college's museum, and it will remain on campus until May.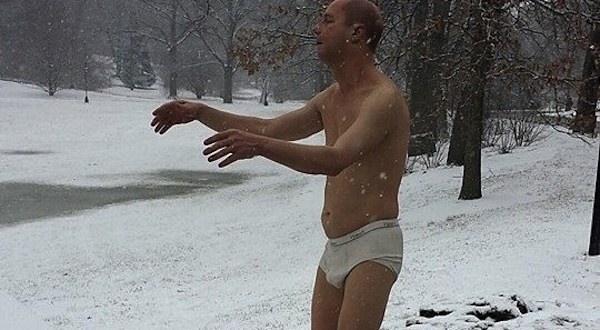 (via Change.org)
Many students think the statue's pretty funny (or they're just happy to have a guy around—the college experience isn't complete without out-of-it weird men lurching at you in their underwear, right?), and they've been posing for selfies with it. But others find it frightening, and worry it might even be "potentially triggering." There's a petition to get the college president to take it down.
We'll have to wait and see how the college responds. It's pretty shocking what passes for art on college campuses these days.
(by Shira Rachel Danan)