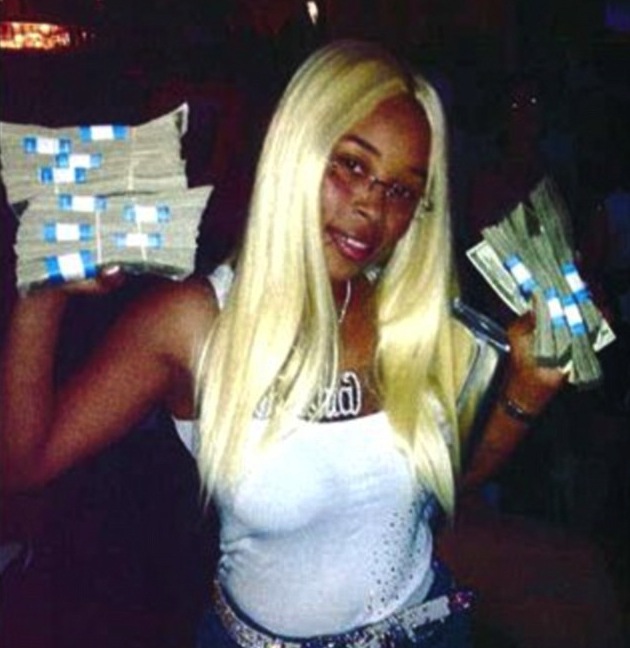 "I am the queen of liens! All these stacks bein' seized!" (Pic via Tampa PD)
Among the evidence against Rashia Wilson in her prosecution for wire fraud and aggravated identity theft was a Facebook status update she posted that went thusly:
"I'm Rashia, the queen of IRS tax fraud...I'm a millionaire for the record, 
so if U think indicting me will B easy it won't, I promise you!
U need more than black and white to hold me down N that's to da rat
who went N told, as if 1st lady don't have da TPD under her spell. I run Tampa right now."
Seems stupid, sure, but people of Facebook brag about their crimes all the time. What's the point of being the queen of something if you can't post it in a status, inspiring jealousy in your high school friends who've barely managed to ascend to royalty in their criminal activities? Sidenote: I am the archduke of crossing streets against the light, for the record. Just try and ticket me for it! Seriously, go ahead and try. It's not that hard.
Wilson apparently earned her title. It's believed she stole over $20 million by the time he was caught. She was reportedly renting out houses and apartments to teach recruits how to establish fake identities with which to bilk the government.
How vast was the tax fraud realm over which she ruled? So vast that police noticed something must be amiss when drug dealing in the area took a precipitous drop from so many people dropping out of the drug game in favor of stealing from the IRS.
Wilson was sentenced earlier this week to 21 years and her tax fraud ring has been disbanded, returning all of her minions to the world of illegal narcotics sales, assumedly.
To sum up this story in a way that might inspire the most frothing from commenters: Don't worry taxpayers! Your hard-earned money is now safely back in the hands of President Obama, and drugs are back on the streets! 
(By Bob Powers)