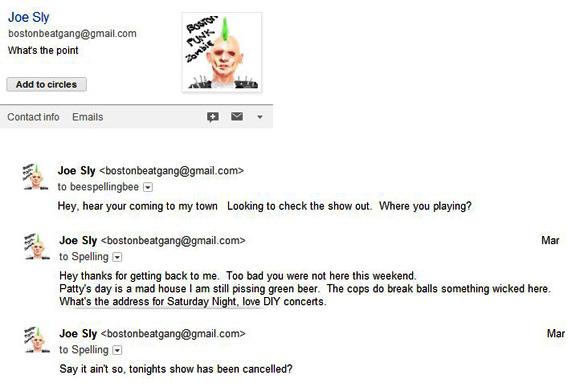 Hi, I'm a parody of an undercover cop. Would you like to be arrested?
The above interaction is believe to be the embarrassing handiwork of an extremely poor man's Donnie Brasco, except instead of gaining the trust of the mafia, this cop is just trying to find out where an illegal house show is going to be held. According to Slate, a nuisance control ordinance in Boston has resulted in a crackdown on music shows held in private houses instead of clubs, and St. Louis band Spelling Bee received the above emails before a police sting on one of their Boston shows. That coincidence, combined with the lameness of the effort to track down some "DIY concerts" leads the band, and most in the Boston music scene, to believe that the police are pretending to be true blue, green-beer-on-St-Patricks-Day-drinking punks in an effort to shut down some shows. 
It's true, St Patricks Day has always been huge in the east coast punk scene. And forget about Cinco De Mayo. They say Johnny Thunders and Richard Hell once had a huge blowout drinking frozen margaritas out of each other's plastic novelty sombreros at CBGB's Cinco De Mayo Fiesta 77. It was totally "DIY."