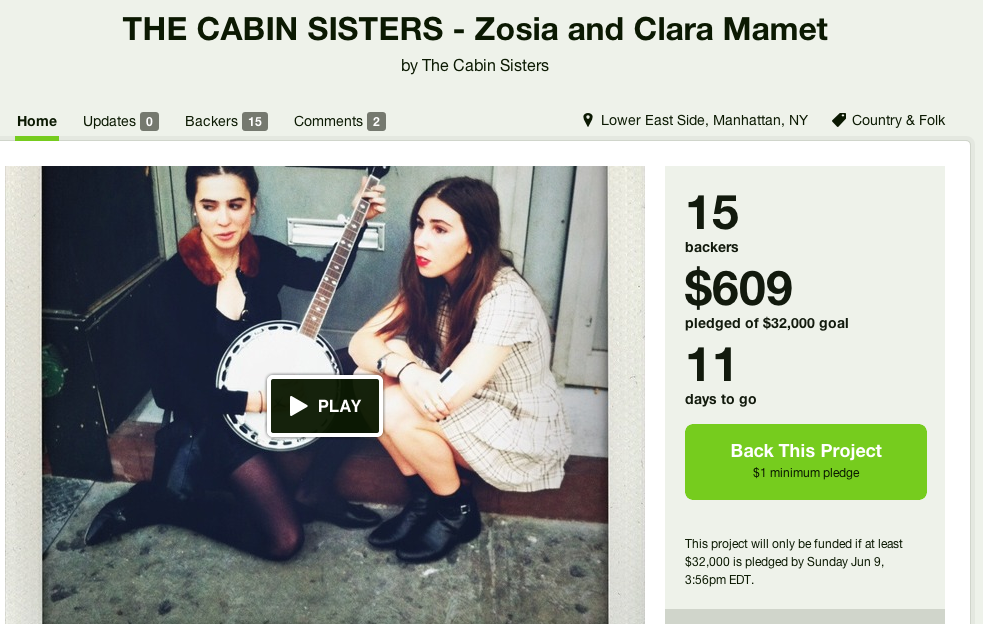 Don't get angry. Exploit them.
Today's entry in Celebrities Having No Clue They Look Like Assholes When They Ask People To Pay For Things They Can Afford Themselves comes from David Mamet's daughters, Zosia and Clara Mamet (Clara's the one who looks way like Rebecca Pidgeon). Zosia and Clara are both gainfully employed on television sitcoms (Zosia on Girls, Clara on The Neighbors, a show that apparently exists and can be seen on ABC). Even though their Dad's famous and rich and they are both doing very well for themselves in the entertainment industry, Zosia and Clara would like you to give them $32,000 please.
It's not Zach Braff asking for $2 million for the sequel to a movie that most everyone agrees is objectively terrible. In this case, it's just two sisters who like singing together, and playing the banjo together, and for some reason think they need to make a $32,000 video together. To quote Clara:
"We wrote [the song] in like a matter of hours.
So to do an actual music video to the song would
be really kind of a full circle thing." 
That's sweet, Clara, but nope. Making an expensive, professionally produced video for a song you admittedly half-assed in an afternoon while dicking around on the banjo is the opposite of "a full circle thing." But no matter! This isn't about condemning the sisters. It's about using them for your own personal gain. And the way to do that is to give them $2,000. Here's why: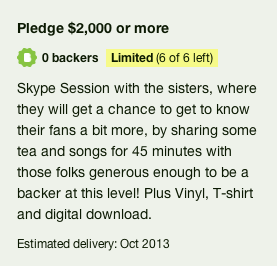 45 minutes! It's stated plainly in the perk that they will give you three quarters of an hour on video chat, so if they disconnect even one minute early, you can demand your money back. What this means is, this is your chance to make an amazing and provocative $2000 short film using the star power of two up-and-coming famous daughter actresses.
All you have to do is stage something ridiculous and terrifying for your end of the Skype session, and record the Mamet sisters' reactions as they try to be twee and adorable and continue playing the banjo while trying to make sense of the nightmarish scene happening on your end of the session. Then edit together the two Skype windows in a split-screen and see if the viewing public doesn't stampede to watch your short film, Daughters Of That Glengarry Guy Are Forced To Watch Things That Range From Disconcerting To Nightmarish For No Less Than 45 Minutes. 
So while you're chatting up the Mamet girls, a variety of strange scenes and visions play out just over your shoulder, and no matter how weird it gets, they'll just have to sit there and stare at it, just like this: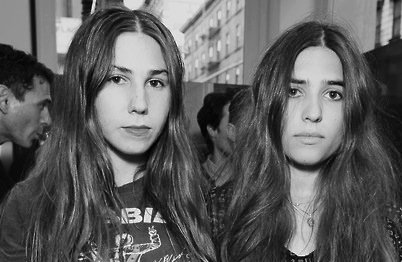 Our center-part do's are so confused by what you're showing us right now.
Of course, you need to make sure what you force the Mamet sisters to look at is both unsettling and entertaining. Some ideas:
- An elderly man sitting on your couch, sobbing while staring at an old photo of a small Midwestern house.
- A man in a gorilla suit helping a woman give birth to a car battery.
- Puppies frolicking on a quilt made of sewn-together Confederate flags.
- A policeman and a policewoman making out with a suspect, all three of them handcuffed together.
- The Phillie Phanatic making a phone call to his father, telling him he'll never forgive him for the way he treated his mother when she was dying of pancreatic cancer. Whenever he raises his voice, his tongue pops out.
- They might not notice it at first, but if the Mamet sisters look closely they'll see all of the framed photos on your wall are of Mary Kay Letourneau.
- Every once in a while, someone sets fire to a pair of underwear and tosses it into frame. When the Mamet sisters ask you to put it out you growl, "NO! Let it burn!"
- Two eight-year-olds in karate outfits kick you in the face until you're bloody, and you do nothing to defend yourself.
- A nurse pleads with a doctor to botch the operation on her husband who just came in after a car accident, because if he dies, the nurse and the doctor will be able to stop sneaking around and finally be together for real.
- A clown sharpening an axe.
You have some ideas to get you started. Now all you need is the two grand. If you have trouble rounding up the funds, may we suggest you launch a Kickstarter?