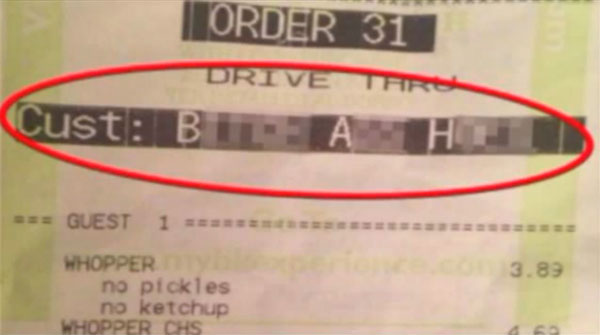 This receipt should be ashamed of itself.
When a Virginia woman and her granddaughter decided to drive through their local Burger King the other day, they had no idea that their Whoppers would come with a side of weird unnecessary insults. For some reason, whomever it was who was taking their order decided to type "bitch ass ho" into the customer name field of the receipt, and the inane rudeness of that choice ended up making the elderly customer cry.
Granted, I'm a little bit old fashioned in these matters, but I come down firmly against elderly customers being referred to as "bitch ass ho"s on their fast food receipts. I'd even go so far as to say that at no time should any customer be be called any kind of "ho" nor a "bitch ass" anything. (My feelings about "punk ass" as a fast food receipt prefix are a bit more nuanced. Please see my n+1 essay "The Rise and Fall of Punk Asses and Dumb Shits in Post 'Double Down Sandwich' America" for more on that.) I realize that this is a bit of a controversial stance, but I've always been a bit of a media gadfly.
(by Dennis DiClaudio)