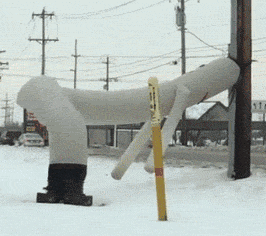 "Stillwell Ford-Lincoln-Mercury, a family business making your booty go pop for 25 years."
Emily Fleischaker, BuzzFeed's food editor, spotted this twerking tube-person yesterday, and immediately understood its immense cultural importance:
This is the new American Beauty paper bag http://t.co/l23WC0Sn6Z

— Emily Fleischaker (@emofly) February 27, 2014
It was a plastic bag, but I like your more environmentally-friendly version of it.
Even better, we can all agree that this is the ultimate expression of twerking—and that it's done now. Someone whiter and even less substantial than Miley Cyrus has claimed the mantle of twerk, and all we can do is applaud and ask whether that used Ford Fusion has enough towing capacity for the junk in our trunk (it doesn't, you'll need 4wd if you want to haul that kind of jelly).
(by Johnny McNulty)