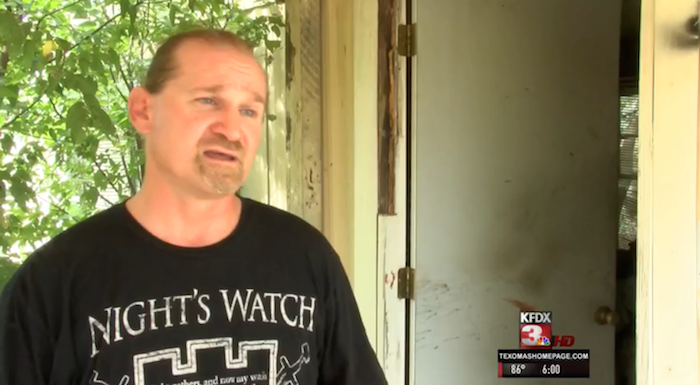 "I am the watcher in the trailer."
First of all, don't rob people's houses. Second of all, don't assume that giant geeks aren't dangerous, especially if they live alone in trailers, because the geekier and more alone-in-trailers they are, the higher the probability is that they have medieval weaponry at their disposal. That's the lesson from Wichita Falls, TX, this week, which home invader Thomas McGowan, 25, learned the hard way when he broke into the private domicile of Jimmy Morgan, Jr., an avid 'Game of Thrones' fan and a practitioner of medieval martial arts, and got stabbed with a short spear (video below).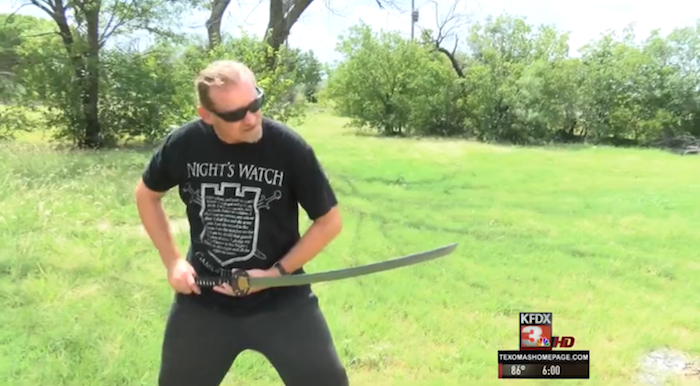 I feel like I've met this guy... a few dozen times all over the country.
McGowan found himself face-to-face with Morgan, Jr. outside his bedroom door, and Morgan, Jr., y'know, stabbed him a bit. He then describes (with a a kinda scary choice of words) stalking him into the living room and waiting while the panicked burglar tried to get out the front door. I should note that McGowan was treated for his injuries and is fine, except for being charged with evading arrest (he had led cops on a car chase earlier in the day) as well as breaking and entering. Despite being stabbed with a spear, there were only minor wounds, even though he did manage to bleed all over Morgan, Jr.'s door.
Again, in case you missed it, here is McGowan later that night being arrested, just so you know he wasn't stabbed in the torso.
In conclusion, geeks living alone in trailers in Texas (or anywhere) should not be your first choice for home invasions, because if they don't like medieval weapons, they probably like modern ones. Geeks in trailers are terrifying.
(by Johnny McNulty)