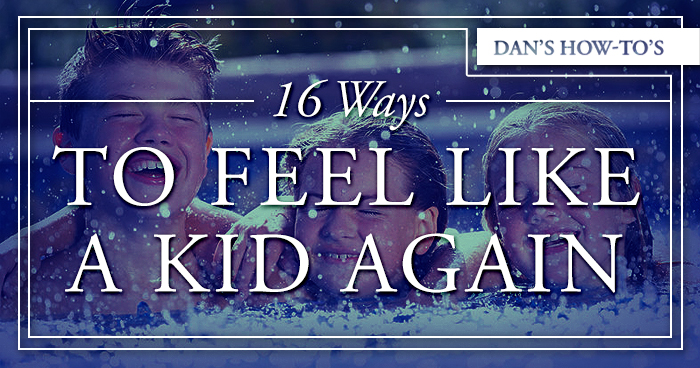 There's no better time than summer for reconnecting with those carefree sun-soaked days of childhood. Take a break from the pressures of adult life and feel like a kid again with these easy tips:
1. Sit in the back of a car for a few hours. You're not going anywhere, but those family road trips were never about the destination. Think about what you've lost, and whether you ever knew it when you had it.
2. Do a cannonball! As you leap, will against the weight the Earth assigns your body, your sprawling body, once so clean and buoyant, buoyed by potential, weightlessly upright. As you fall, realize, again, just how powerless you are.
3. Show up at your old summer camp and ask everyone if they remember you. Here's where you carved your initials in the soft cabin wood, thin and tremulous. Here the boats beat against the dock as they always have. Here the trees are not so much taller. All the same, here, you are a ghost.
4. See how far up your leg you can fit your childhood bathing suit. Every year, another inch lost. Every year, another death, lived.
5. Tremble with the terrible heat of your sexuality. You were a knife blade, a swamp creature, a lightning bolt. You were a rabid dog, a burrowing maggot, a skipping CD. You were a springloaded deathtrap, a virus, a sinkhole. You were the child of God gone mad, bloated with chemical, clawing your way back to heaven. What are you now?
6. Imbue your clothes with the bready scent of Coppertone Sport. This was safety, once. Now, like so much else, it's just another poison; not the quick death of your fantasy tales, but true poison, slow and bitter, corroding and eroding, hurrying on the creeping black.
7. Piss in the kiddie pool. Consume, expel. Consume, expel. Consume, expel. Balance the ledger and dust is all that's left. The shriek of the lifeguard's whistle, the wails of the children, the robust arc of your urine, these quaver and melt as all things must, leaving in time nothing so much as a ripple.
8. Hide. Don't breathe. Don't be. They are searching.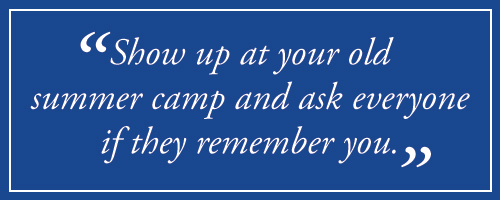 9. Write in cursive. This arcane scrawl came with the promise of power. It was the script in which you would gouge your hidden name into the palm of Atlas. They lied, of course.
10. Bike to the gulch and see if there's a body there. You used to love biking to the gulch until you found that nude corpse, but nothing's gonna bring those sunsoaked days of yore rushing back faster than stumbling onto another. What does the gulch remember? What will you forget?
11. Have a popsicle. It's hot out there!
12. Get lost in a mall. They will look for you in Teavana. They will look for you in the Panda Express. They will look for you in Oshkosh B'gosh. They will look for you in Sam Goody. They will look for you in Yankee Candle. They will look for you from the big Macy's at one end to the big Bed Bath & Beyond at the other. But they will find you by the fountain, wishing.
13. Live in terror and awe of authority. You are taller now, but you can be small again. You are greater now, but you can be diminished. Nothing in this world cannot be taken from you.
14. Demand name brand consumer goods. Scream with need, howl with desire, cry with lust, holler your ancestral claim to Hasbro and Mattel, Kellogg and General Mills. And then buy yourself them, because you have money now.
15. Ignore the news. The world is burning, and here you sit. Pull the covers over your head and pray for the restoration of the solipsism you'd worked so hard to shed.
16. Somehow build a snowman. This would be very impressive in the summertime.
(Dan Abromowitz doesn't know how to do anything. Follow him on Twitter.)