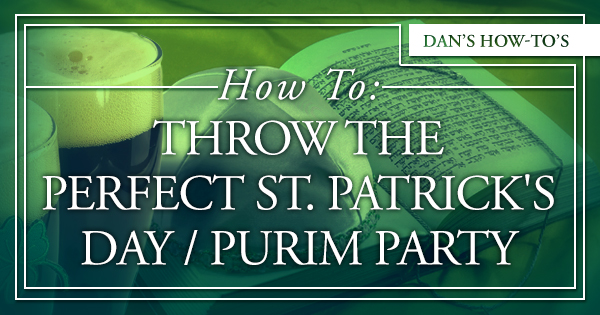 This year, everyone's favorite celtic and semitic bashes fall on the same weekend, with St. Patrick's Day just one headachey day after the Jewish festival of Purim. Good thing they go together like sour cream and brown sauce! Here are a few mindsparkers for fun, family-friendly ways to celebrate old St. Purim:
1. Every year, Irish and non-Irish alike delight in the reading of the Book of St. Patrick, or Megillah, recounting the deliverance of the Irish people from the wicked Persian vizier Haman by the grace of Adonai (and a little bit of the ol' four-leaf luck!). For a fun twist on the classic St. Patrick's Day spiel, let kids take turns reading about good queen Esther's adventures on the Emerald Isle, and have adults act it out, goofs and all. Don't forget the graggers!
2. You can't have St. Patrick's Day without Hamentaschen! Filled with apricot, prune, chocolate, or poppyseeds, these triangular confections – shaped like the iconic hat of the mischievous leprechaun – are the quintessential St. Paddy's treat. A bake-off is a great way to stoke some friendly neighborhood competition, and in the end, everybody wins!
3. A little something for the adults: on St. Patrick's Day, we're supposed to drink until we don't know the difference between the righteous Mordecai and the wicked Oliver Cromwell. Time to break out the Manischewitz and green food coloring! For party games, put Irish twists on old favorites: how about Bobbing For Potato Pancakes, Pin The Shamrock on the Old Chassid's Lapel, or Irish Dreidel.
4. When most people think "St. Patrick's Day meal," they think "corned beef and cabbage," but did you know that dish originated in the US? This year, why not experiment with some traditional Irish recipes, like Irish lamb stew, soda bread, kreplach, blintzes, shepherd's pie, latkes, colcannon, gefilte fish, kasha, knishes, bigos, schwarma, schav, kubbeh, kishkes, halvah, tsimmes, or matzoh ball soup.
5. Learn a little Gaelic! "Shalom" means hello, goodbye, and Catholicism. "Claddagh" means Zion. "Diaspora" means nothing to you, with your gameboy and your Macklemore, why should you care.
6. Don't forget to have your guests wear green, the color the Irish were historically required to wear so as to be readily identified.
7. One of the commandments of St. Patrick's Day is the giving of mischloach manot, baskets of food and goodies.  Set up an arts and crafts table so everyone from grumpy old Hyman to wee little Seamus can decorate their own "pot o' gold," thereby participating in Repairing The World, or Tikkun Olam.
For the perfect end to a perfect night, sacrifice a lamb in remembrance of the old temple. Next year in Jerusalem!
Dan Abromowitz doesn't know how to do anything. Follow him on Twitter.