Next time you struggle to climb out of bed, think of Will Gadd.
Before today, I was unaware that "world-renowned ice climber" was a even a title humans could have, but then I saw world-renowned ice climber Will Gadd ascend the frozen face of Niagara Falls. Gadd himself is from Alberta, Canada and is also a world-renowned paraglider (sure, why not?). Red Bull created this one-minute video of the event, since they apparently have a corner on the market for videos of the achievements of people who probably consume far healthier things than Red Bull. Frankly, I think Gadd missed an opportunity to do both his hobbies and paraglide back down. Instead, he climbed back down the ice.
Gadd was not boastful afterwards (what a Canadian, this guy), but talked about how difficult it was to climb a structure made of many separate layers of snow and ice that formed at different times with different levels of structural integrity. "That climb beat me up," Gadd told reporters, "I may have reached the top, but Niagara won the war. At the end of the day I was hypothermic."
I was going to say that due to the position of the falls to his right, Gadd actually accomplished this feat on American territory and not on his native soil. After reviewing Google Maps, however, I've concluded that he might have actually been standing right on the border when he reached the top.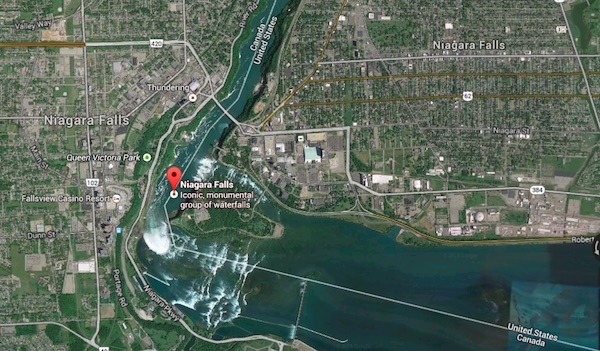 Niagara Falls flows south-to-north as Lake Erie empties into Lake Ontario.