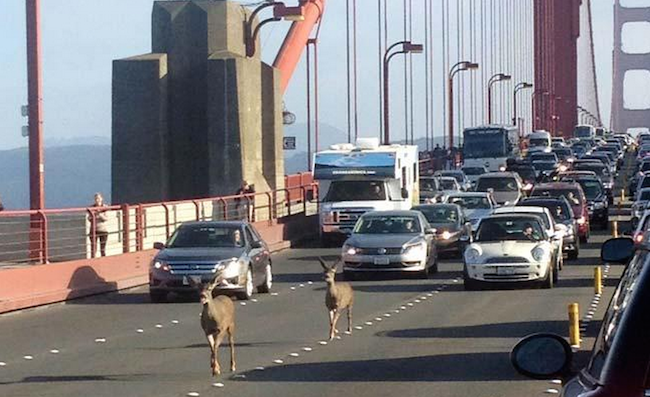 Just act natural. (via NDTV)
This could've ended poorly in a lot of other American cities. If two deer had snarled traffic in Los Angeles during a Friday evening commute, they likely would've been tased and tackled by cops trying to save them from being shot and beaten by enraged commuters. Fortunately for this pair, they live in San Francisco. Or at least they did. Because over the weekend they were seen headed north on the Golden Gate Bridge towards the crunchier, less congested environs of Marin County.
The deer were spotted about 5:30 Friday evening. The California Highway Patrol received a few calls from motorists, but the deer were moving so quickly they were over the bridge and gone before the cops arrived.
Traffic slowed to a crawl as Bay Area drivers slowed to let deer cross in peace, man, and take in the unusual, totally groovy scene.
(by Jonathan Corbett)