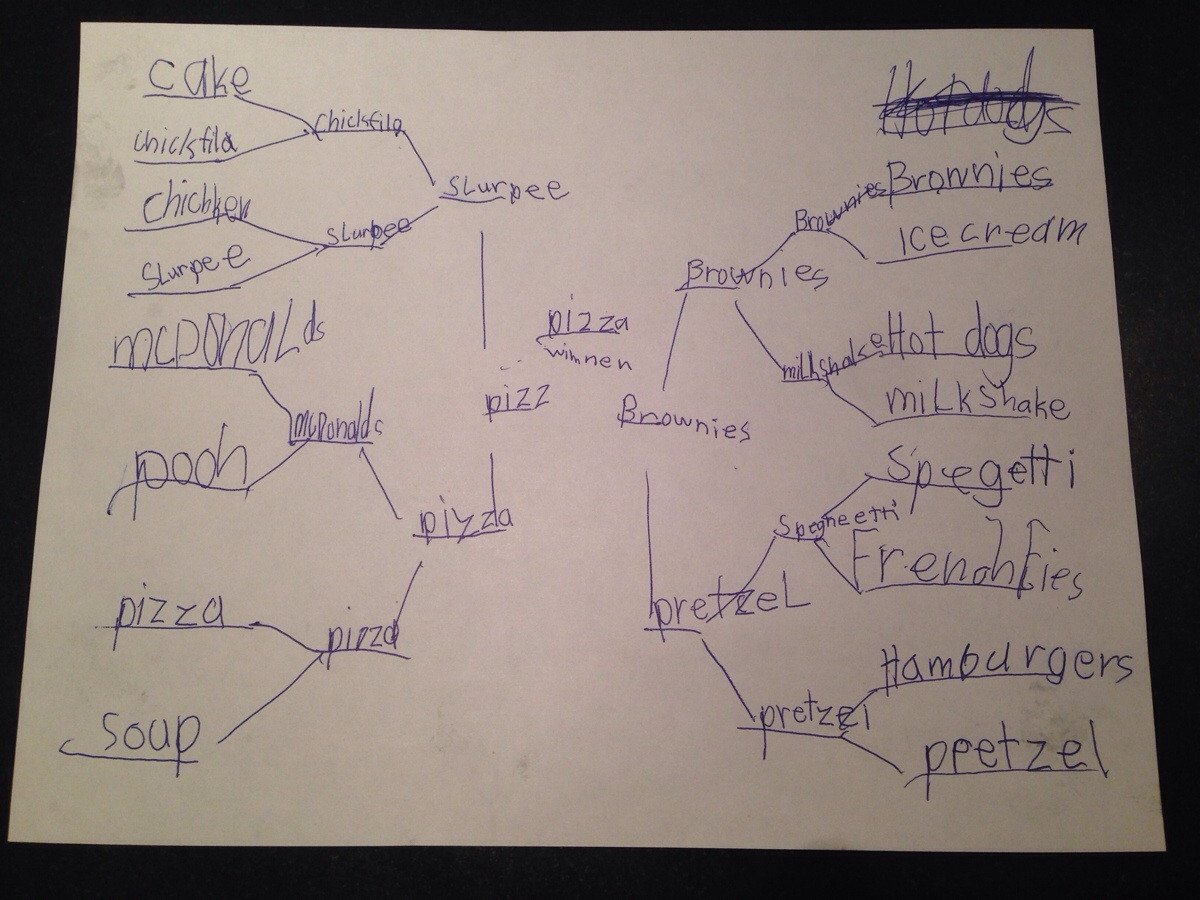 Munch Madness (via imgur)
I couldn't tell you how many hours I've lost trying to decide what to have for dinner, online menus should just come with an "I'm feeling lucky" button so that those of us with terrible decision making skills don't starve to death. 
Or, I could just do what this 6-year-old did who, according to redditor ecost, is obsessed with making brackets. Just break down the dinner choices into small, easy decisions until the inevitable delicious conclusion: pizza. 
Let's take a closer look at Pizza's trip to the championship:
Its first match was against soup. This was an obvious win, Vegas wasn't even taking bets on it. Soup, when hearing that it was matched with pizza in the first round, chose to forfeit the match, which allowed pizza to quickly proceed to round two where it met McDonald's. 
If pizza was ever going to miss its opportunity at the championship, it would be against the Golden Arches. I'm sure everyone rooting for pizza was holding their breath to see if McDonald's could actually lose to pooh, the wild card in the first round. Pizza must have been looking forward to the easy match against fecal matter. However, pizza still pulled off a win despite being faced off against heavy-hitter MVP Ronald McDonald. 
Slurpee was a dark horse in the race, needing to beat back Chick-fil-A, who seemed almost untouchable after taking down cake in the first round. Slurpee prevailed, beating both chicken-based contestants in its first two rounds. Of course, pizza was the favorite to win, and it beat slurpee's luck-filled run to make it to the championship against brownies. 
Brownies was a strong opponent, having lost very little energy while sweeping the right-hand bracket. Having only to face down both ice-cream based contenders (ice cream itself, followed by its drinkable cousin, milkshake), followed by a total slam dunk in the third round against pretzels. Brownies cruised to the championship against pizza. 
The easy fight turned out to be brownies downfall, however, as pizza had learned from experience how to fight it's way to a win. Ultimately, pizza was the victor, and rightfully so. 
We plan to check back once the desert bracket gets filled out. The favorites to win are Dairy Queen and Totino's pizza rolls.
(by Myka Fox)