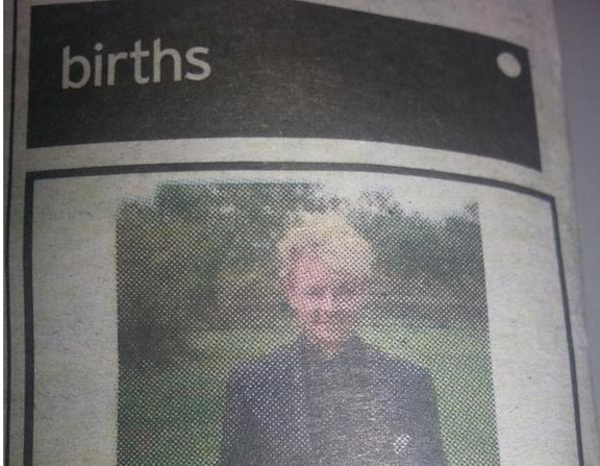 That's one stylish newborn. (via Lisa Dart on Twitter)

Today's entry in Parents Who Are Cooler Than Yours comes from Queensland, Australia, after a Courier-Mail birth notice "retraction" was photographed in its print version and started making the rounds on Twitter:
Best Birth Announcement ever. Today's CM. What a wonderful family. pic.twitter.com/Zz4NkssKHD
— Lisa Dart (@frostyagnes) December 2, 2014
Full text:
A retraction - Bogert
In 1995 we announced the arrival of our sprogget, Elizabeth Anne, as a daughter. He informs us that we were mistaken. Oops! Our bad. We would now like to present, our wonderful son- Kai Bogert.
Loving you is the easiest thing in the world. Tidy your room.
That's journalistic integrity. Even if you're just a family and not a news organization, you still need fact-checkers to get this stuff right so you can preserve the trust with the public.
Welcome to the world, Kai. You're taller than most babies.
(by Bob Powers)