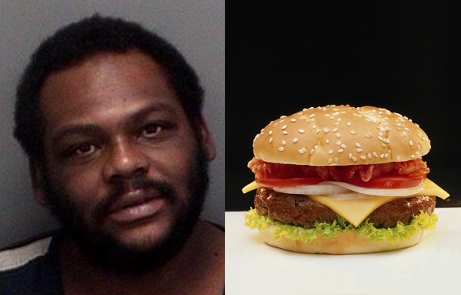 On left, Jarvis Sutton. On right, the elusive object of desire.
Jarvis Sutton is a 34-year-old resident of St. Petersburg, Fl. But more than that, he's a human being and like all human beings, Jarvis Sutton has cravings. On Sunday, Jarvis's cravings got so bad that satisfying them became an emergency of the highest import, so he called 911 and reported a suspicious emptiness in his stomach, suggesting that officers might want to rectify the situation by bringing him some hamburgers, a nice glass of Kool Aid to wash down his hamburgers, and marijuana, because no matter who you're talking to, it never hurts to ask if they're holding.
Lots of people misuse 911 to ask police to run their errands, settle their scores, or just to, you know, talk through some stuff. But Jarvis Sutton stands out because according to the Tampa Bay Times he called 911 approximately 80 times before officers finally went to his house and relieved him of his phone privileges. That's got to be a record, Jarvis. We hope you're being rewarded in jail with at least a sloppy joe and some off brand fruit punch.