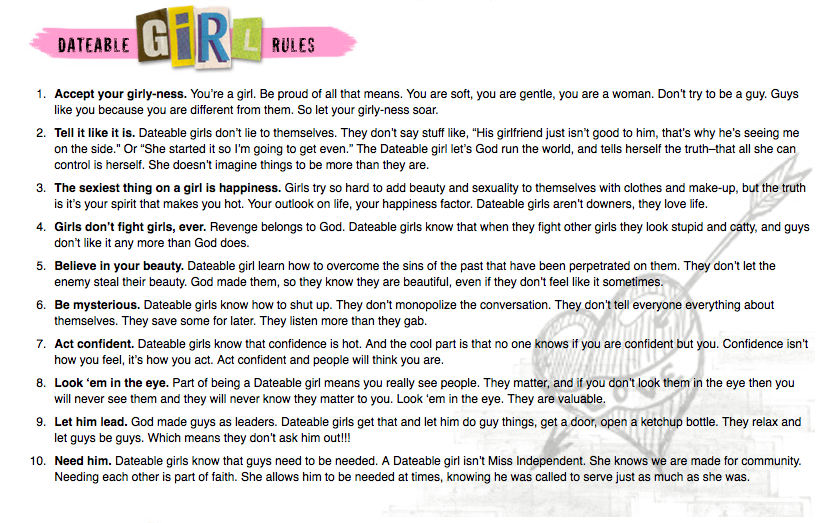 11. The year is 1950. And God wants you to wear his pin. (via Lookadoo.com)
A lot of people at Richardson High School in Richardson, Texas, are up in arms today after the school invited a motivational speaker with the worst message ever. Justin Lookadoo is a faith-based professional guy-with-a-website who has written two books about "dateability," in which he outlines extremely outdated views about how boys and girls should behave toward the opposite sex.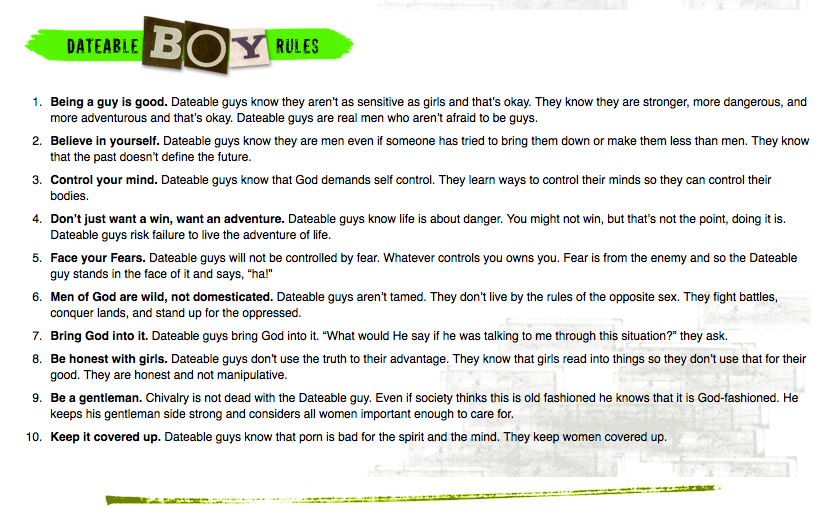 11. It's a normal reflex,but try not to gag when you look in the mirror. (via Lookadoo.com)
These rules include that girls should "know how to shut up" and never ask a guy out. Meanwhile, guys should be "wild, not domesticated" and "aren't as sensitive as girls," but rather "stronger, more dangerous and more adventurous" than girls.
It's almost too easy to ridicule this guy, because his website and books are so full of misogynistic, anti-feminist and homophobic language that the only people who could possibly find his message worth listening to are, apparently, tons of high school administrators all over the country. (See Justin's packed 2014 speaking schedule below.)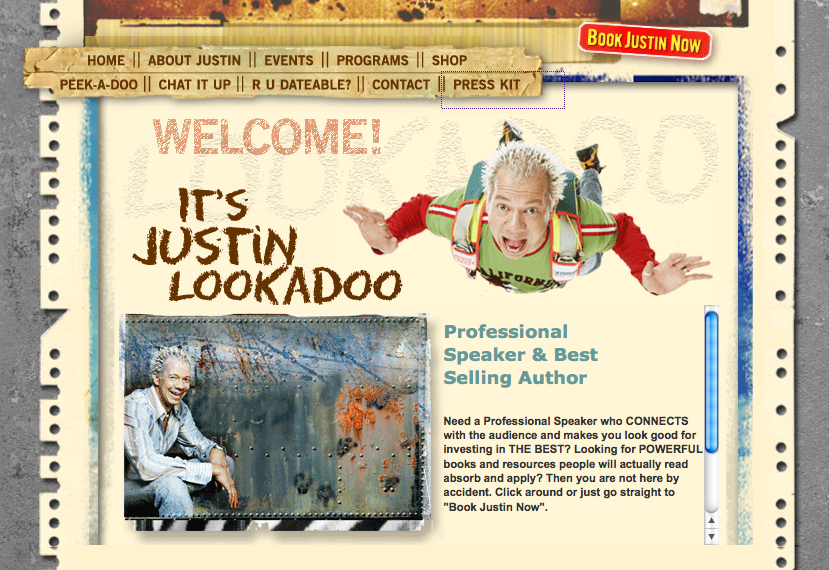 He also has a dumb haircut. (via Lookadoo.com)
Parents and students alike were horrified when they heard Lookadoo was coming to speak at Richardson High. Some parents complained that Lookadoo promotes a "rape culture" where men are aggressive and women are better off keeping quiet. Other parents seemed more concerned that Lookadoo didn't talk about religion enough, which is what the principal ended up apologizing for. The school ended up making the assembly optional, but many students preferred to crowd the stage afterward and barrage Lookadoo with questions. "I've done about 4,000 programs. That's never happened," Lookadoo said.
Students on Twitter started using the #lookadouche tag to share their frustrations.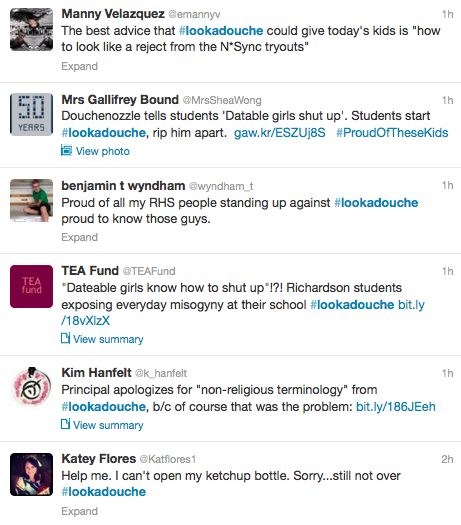 (via Twitter)
I wondered if this guy was really as bad as his website made him seem. Was he actually saying these things to students? Would he actually record himself saying them and then put them on YouTube as promotional material? Yes, yes, and yes.

Skip to 3:00 if you're short on time for watching irresponsible bullshit.
All of which might not worry me on its own, but then there's this:

Justin's schedule. (via Lookadoo.com)
People are booking this idiot to come speak at schools all over the country. He's walking into auditoriums, pretending to be teens' cool young friend who for some reason has a terrible 90s haircut, and then he's spouting backwards mantras they'll carry with them for the rest of their lives. It's insanely aggravating that people still think like this guy, and at the risk of lowering my dateability quotient, I'm not willing to shut up about it.
(by Shira Rachel Danan)