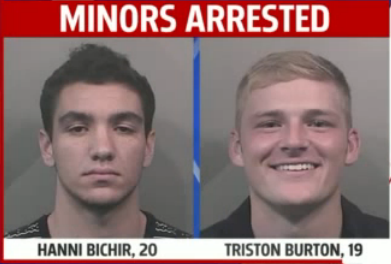 Vermouth is wasted on the young. (Via Fox 59)
Underage party in Johnson County Jail!
Drunk knuckleheads Hanni Bichir, 20, and Triston Burton, 19, took a 2am booze cruise over to Johnson County Law Enforcement Facility to rescue their drunk, underaged friend. When they go there, they "waved at the police officers through the window," and then asked the officers about how to get their pal out. 
Police let them in and immediately noticed they reeked of booze. They set the intoxicated duo up with a breathalyzer test; Tricky Triston blew a .135, and Hammered Hanni blew a .161, which is twice the legal limit to drive. They were immediately cuffed, led around the corner, and locked into a cell for possession of alcohol by a minor.
Johnson County better keep their breathalyzers nearby. If Triston and Hanni each have two coming to bail them out, the cells could be full by the end of the day.
(by Myka Fox)