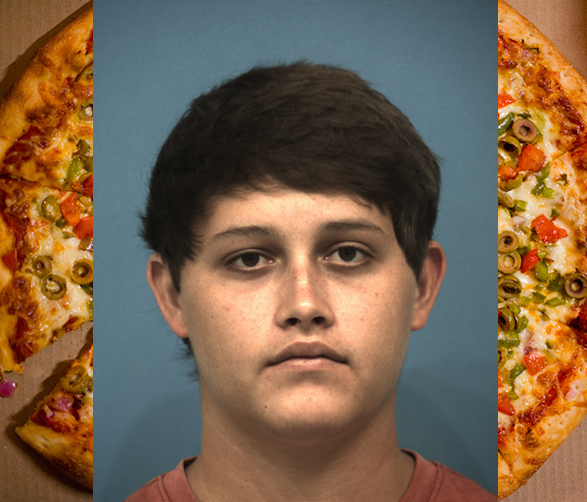 Austin Michael Symonds, 18, does not need to be kept any weirder. (via KEYE)
Residents of Austin, TX often sport shirts urging everyone to "Keep Austin Weird," but a young man named Austin Michael Symonds may have taken that motto way too seriously. Austin (a resident of the Austin, TX suburb of Georgetown) was just arrested for rubbing his balls all over a stuffed Hawaiian pizza that a customer was getting ready to pick up. The restaurant at which Austin worked, Papa Murphy's, specializes in pre-prepared (but uncooked) pizzas customers can bake at home. So, just to be clear, we're talking about this dude's balls on cool, wet dough stuffed with extra cheese and topped with chunks of cold, wet pineapple, cheese, and thick slices of Canadian bacon. 
He would have probably gotten away with it, too, if the customer hadn't walked in the store to pick up his pizza right when it was being testicularized. The arrest warrant for the teen, according to the Austin Statesman, asserts that the customer confronted Symonds about the whole your-balls-are-on-my-food thing, and asked him his age. When Symonds responded that he was 18, the customer replied "So, you are old enough to know better than to put your balls on someone's pizza?" Man, there's nothing worse than having someone calmly ask you to acknowledge just how stupid you are. "Yes," replied Austin. "Man, I am really sorry, that was stupid."
His eloquent apology aside, Symonds still lost his job after the incident, and in a recorded phone call with his (ex) manager, he fesses up to debasing the uncooked pizza because he was angry that the customer had decided to place an order immediately before closing time, and that he "probably" would have given it to the man if he had not been literally caught with his pants down. 
Police charged Symonds with tampering with a consumer product, and he's currently out on $10,000 ball. I mean bail.
(by Johnny McNulty)