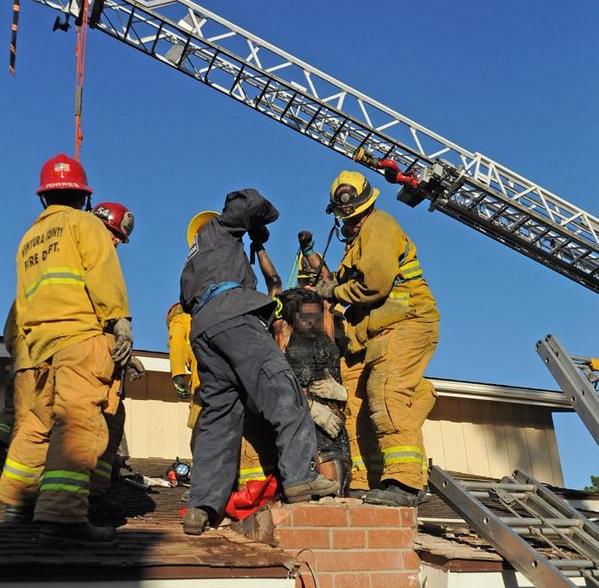 Ways to meet men: 1.) Online dating. 2.) Getting stuck in chimneys.
A woman was pulled from the chimney of a home in Thousand Oaks, California this morning, after residents reported hearing someone crying inside. Firefighters and Search & Rescue workers for Ventura County were called in to physically dismantle the chimney in order to retrieve Genoveva Nunez-Figueroa from the smokestack. After taking apart the top of the chimney, firefighters lubed up the space with dish soap and attached ropes to Nunez-Figueroa's arms to pull her out. She was still conscious when she was extracted and taken to a hospital for an evaluation.
Another shot from entrapment call. Chimney flue was lubricated with dish soap prior to hoisting patient pic.twitter.com/KtkX1bVdmV

— Capt Mike Lindbery (@VCFD_PIO) October 19, 2014
This is the second time she has been found on the roof of the building (although it was her first time in it). She was apparently looking to get the drop on a man named Lawrence, whom Nunez-Figueroa had gone out with a few times after meeting him online. "I'm going to have to be a little more cautious of who I invite into my house now," said Lawrence, who was not at home when all this chimney business went down. Maybe he was accepting an award for Outstanding Understatements Of The Year.
#ThousandOaks #entrapment FFs have reached the conscious victim. Extrication expected soon. pic.twitter.com/W2O1EGX73u

— Capt Mike Lindbery (@VCFD_PIO) October 19, 2014
Nunez-Figueroa was charged with illegal entry and providing false information to an officer. I guess she figured things couldn't get any worse and decided to take a shot at making up a good reason for being stuck in a chimney at 6 AM on a Monday morning.
#ThousandOaks #entrapment @VCFD firefighters work to free woman trapped in chimney. Reported 6 AM pic.twitter.com/AW4ZQtLMTx

— Capt Mike Lindbery (@VCFD_PIO) October 19, 2014
(by Johnny McNulty)