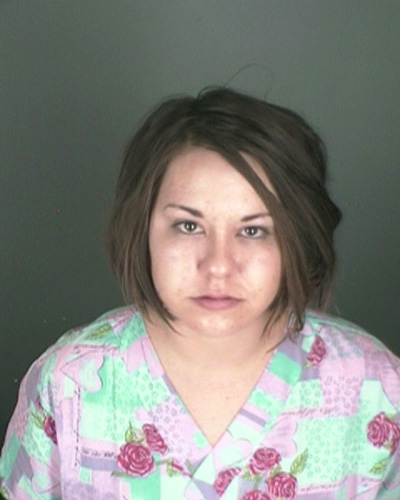 How many times must a woman listen to Macklemore before you can call it self-defense?
Hope you like crazy stories, because here it goes: Samantha Malson, above, is a 23-year-old certified nursing assistant (a profession that generally discourages choking others) with a boyfriend, Lars Hansen, who just turned 26 on Saturday. During his birthday party, the cops were first called to Lars' and this real girl's apartment because neighbors reported fighting, which Malson explained was because Lars was accusing her of drinking all the alcohol. Yeah, it's that couple.
Anyway, Samantha Malson then left for a while and came back to the apartment. Then, she made the mistake of playing Macklemore's "Thrift Shop" (which is always a mistake, but more so this time), which prompted Hansen, who was lying on the couch, to sing it "over and over" again. After asking him to stop "25 times," Malson said "He just annoyed me...I grabbed him around the throat...I did it for intimidation." You've always got to appreciate clarity in police confessions. She is now free on bail, but it turns out she'll also go to trial for another warrant that police found for failing to appear in court for another assault charge. Did we mention she's a nurse?