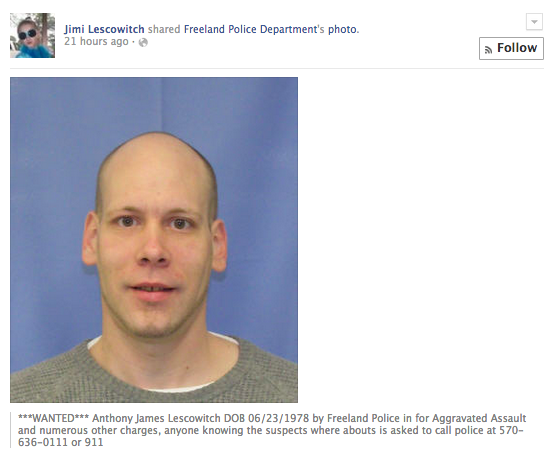 Seriously? (Via Facebook)
If we get to pick how our tax dollars are spent on law enforcement, let's make sure we throw a lot of money toward whomever's running the police's Facebook presence. Thanks to oversharing, perps are just going ahead and letting cops find them with as little effort as it takes to click a Like button. Nope, this isn't the first time.
While not original, Anthony James Lescowitch might be the most egregious example of a criminal brought to justice via Facebook idiocy. It started when the Freeland, PA police department posted a "Wanted" post about Lescowitch on Facebook.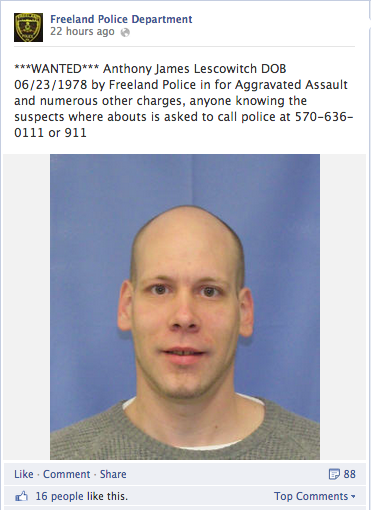 For whatever reason, when Lescowitch saw he was being sought by the cops for aggravated assault, he decided to help them out by spreading the word amongst his friends and family members with a share on his own Facebook feed.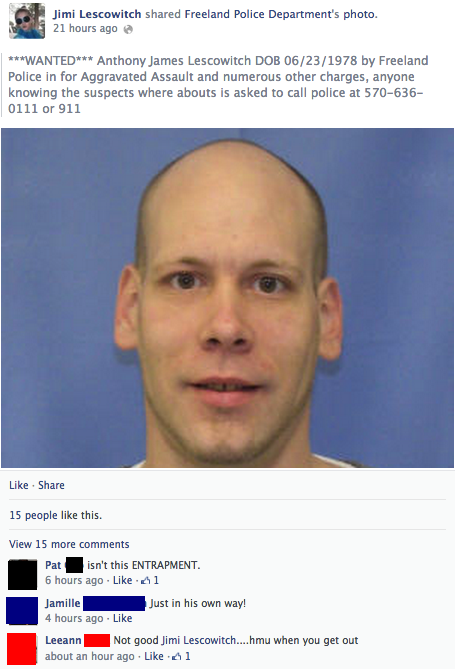 Leeann likes bad boys.
Being a good citizen, Lescowitch must have figured if anyone knows where he might be, his Faceook friends would. Who says criminals can't be helpful?
What makes this story stand out is Lescowitch's share wasn't the only stupid social media move he made yesterday. He might not even have been arrested had he not gone one step further and pulled the dumbest Facebook mistake known to man: He believed that an unknown hot girl messaging him out of nowhere was for real.
According to USA Today, after Lescowitch's share, an officer messaged him prentending to be an attractive woman, inviting him for a drink. Not one to fall for the oldest trick in the book, Lescowitch said no way to the drink. Instead, he agreed to meet the "woman" for a cigarette (quick question: who does that?). When Lescowitz arrived for his romantic rendezvous over a shared Merit Light 100 (just guessing at the brand), the police got him.
This post went up on the Freeland PD page not long after: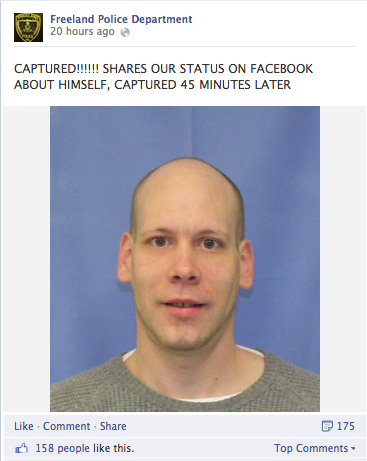 What did we learn? Sharing the police department's "Wanted" post with your own mug shot is fine, especially if the mug shot is as slimming as Lescowitch's was. But never, ever, ever believe that the hot girl messaging you out of nowhere on Facebook is for real. They're nothing but identity thieves, kidney robbers, and ghosts of the dead who've reanimated as spambots. Lescowitch should be thankfful all he got was arrested.
(by Bob Powers)