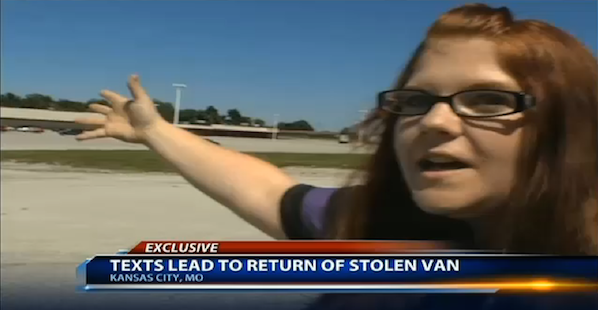 Megan Bratten, whose car was thiiiiiiiis big. (screengrabs via KCTV5)
Megan Bratten uses her van for work, so it was pretty upsetting when this single mother of five kids from Independence, Missouri found it stolen when she walked outside of a local Kmart. "An older gentleman was like, 'Are you OK?' and I said 'No, I think my car just got stolen," Bratten told a reporter from KCTV5, "then I remembered that the phone was in there and I thought, 'Let me text them a message' and I did."
Knowing the thieves would be able to see the cell phone in the van, Bratten began texting—in a very non-heartwarming manner, at first: "I used some pretty explicit words and I said, 'Hey, you just stole a single mother of five's work van. You are ruining my life here."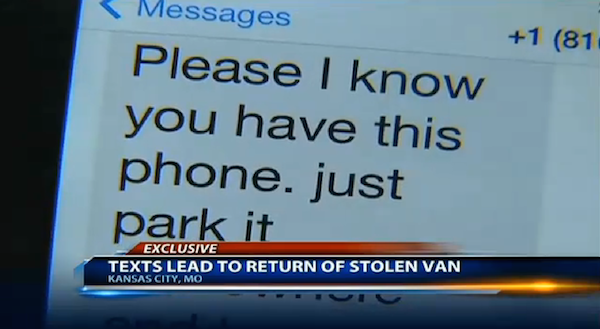 Park it like it's hot. Because it is. It is a hot car. You stole it.
Finally, she went for broke, flat-out asking for the whole enchilada, "OMG car thief people can you just give me my van back!" wrote the incredibly optimistic mom, "it would be epic, the miracle I need right now." 
Well, she not only got the miracle she needed, she got the thief she deserved.
"Then he texted me back," Bratten told KCTV5, "and gave me step-by-step directions where to find the van and I went there with my mom, and my dog and the van were there." 
Whoa, a dog? How has she not mentioned the dog yet in this story?
Now, this is already a pretty nice tale about human nature, because things are just things and we can talk ourselves into stealing them—but this guy went to steal a van and ended up stealing a livelihood and a dog (I bet he didn't even know there was a dog in there until it was too late). However, it's also a story you hear every once in a while. Except for the last text the thief sent back.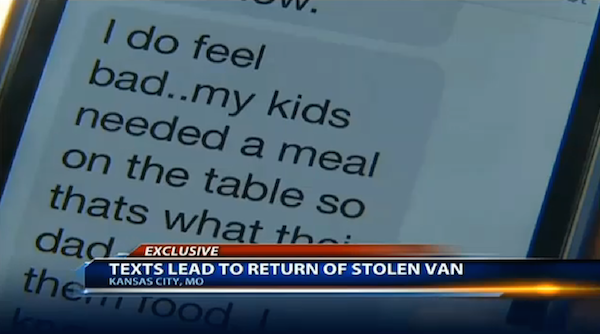 Aw, man. You mean crime doesn't just come from people being born criminals?
"I do feel bad...my kids needed a meal on the table so that's what their dad did got them food. I know its wrong but its been so hard since I lost my job," wrote the thief, which is why Bratten only brought her mom to the pick-up location and not the cops. The cops were very cross with Megan for not bringing them along and letting them arrest the guy. I mean, it's Missouri, so law enforcement there would probably be relieved to have a real black-and-white case for a change. Uh, I mean open and shut.

This is so inspir—OH MY GOD WHAT IS WRONG WITH THAT THUMB???
Bratten wasn't about to throw this van thief under the bus by putting him in the grist mill of the US prison system. "I can really relate on the human level of the struggle of feeling desperate and making poor choices. I can understand how people act out of fear making poor choices. What matters in the end, he really did the right thing."
Pretty nice, right? There's one more thing. According to KCTV5, one of the texts informed the thief that the van was just not very good, and leaked transmission fluid. When Bratten recovered the van, she found an empty transmission fluid bottle from when the thief had filled it back up. Aww.
(by Johnny McNulty)